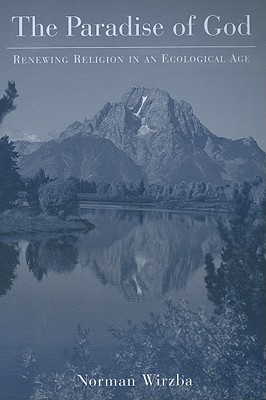 The Paradise of God: Renewing Religion in an Ecological Age (Paperback)
Renewing Religion in an Ecological Age
Oxford University Press, USA, 9780195333503, 240pp.
Publication Date: October 22, 2007
* Individual store prices may vary.
or
Not Currently Available for Direct Purchase
Description
"And God said, Let us make man in our image, after our likeness: and let them have dominion over the fish of the sea, and over the fowl of the air, and over the cattle, and over all the earth, and over every creeping thing that creepeth upon the earth." (Gen. 1: 26) It has become a commonplace
that Biblical religion bears a heavy share of responsibility for our destruction of the environment, and this passage from the King James version of the Bible exemplifies what is generally believed to be the Biblical attitude toward the earth.
In this provocative book, however, Norman Wirzba argues that the doctrine of creation, when understood as a statement about the moral and spiritual meaning of the world, actually holds the key to a true understanding of our place in the environment and our responsibility toward it. Wirzba contends
that an adequate response to environmental destruction depends on a new formulation of ourselves as part of a created whole, rather than as autonomous, unencumbered individuals. Drawing on the work of biblical scholars, ecologists, agrarians, philosophers, theologians, and cultural critics, Wirzba
develops a comprehensive worldview that grows out of the idea that the world is God's creation. While the text of Genesis has historically encouraged a vision of persons as masters of creation, a more theologically and ecologically sensitive rendering, he says, would be to say that we are servants
of creation. Our present culture, Wirzba believes, results from a denial of creation that has caused modern problems as diverse as rootlessness, individualism, careerism, boredom, and consumerism. The recovery of the meaning of creation can lead to a renewed senseof human identity and vocation, and
happier, more peaceful lives. He concludes by offering practical advice for individuals who wish to begin the work of transformation and renewal.
Moving beyond the usual political debates, The Paradise of God presents a compelling vision of a new religious environmentalism.

Advertisement