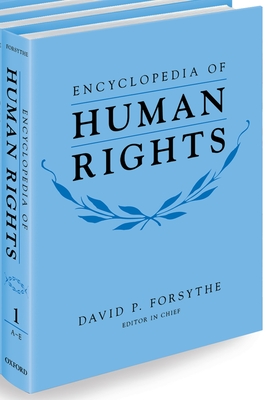 Encyclopedia of Human Rights (Hardcover)
Oxford University Press, USA, 9780195334029, 2672pp.
Publication Date: August 1, 2009
* Individual store prices may vary.
Description
Winner of the 2010 Dartmouth Medal, this major five-volume encyclopedia offers comprehensive coverage of all aspects of human rights theory, practice, law, and history. The set will provide situation profiles and full coverage of the development of the movement, historical cases of abuse, the key figures, major organizations, and a range of other issues in economics, government, religion, and journalism that touch on human rights theory and practice. In addition to providing original analytical articles covering standard subjects such as the right to health and health care, Amnesty International, the Balkan wars, and former President of Ireland Mary Robinson, it offers innovative coverage of such subjects as the Internet, intellectual property rights, the American civil rights movement, globalization, and Brazil in historical context. Focusing primarily on developments since 1945, it offers an unrivaled reference source for students and researchers; even human rights experts are likely to find much original
material and keen insights in many of the entries. KEY SUBJECT AREAS INCLUDE: ORGANIZATIONS AND INSTITUTIONS:
American Civil Liberties Union, World Health Organization, UNICEF, Carter Center LEADING FIGURES:
Adolf Hitler, Steve Biko, Elie Wiesel, Simone de Beauvoir, Joseph Stalin, Eleanor Roosevelt, Pol Pot, Shirin Ebadi, Kim Jong Il HUMAN RIGHTS EVENTS AND CRISES: Darfur, Irish Famine, Soviet Gulag, Central America in the 1980s, Colonialism, Belgian Congo, AIDS HUMAN RIGHTS NORMS:
Ethnic Cleansing, Women's Rights, Religious Freedom, Torture: International Law, Disability Rights

About the Author
DAVID FORSYTHE is University Professor and Charles J. Mach Distinguished Professor in the Department of Political Science at the University of Nebraska, Lincoln. He has worked as a consultant for the UN Office of the High Commissioner for Refugees and has published widely on human rights. He is also the recipient of the 2007 Distinguished Scholar Award from the Human Rights section of the American Political Science Association. In the fall of 2008 he was awarded the Fulbright Distinguished Research Chair at the Danish Institute for International Studies.
or
Not Currently Available for Direct Purchase