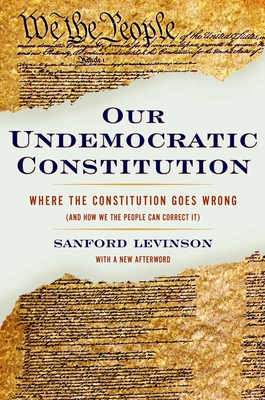 Our Undemocratic Constitution: Where the Constitution Goes Wrong (and How We the People Can Correct It) (Paperback)
Where the Constitution Goes Wrong (and How We the People Can Correct It)
Oxford University Press, USA, 9780195365573, 249pp.
Publication Date: March 7, 2008
Description
Levinson argues that too many of our Constitution's provisions promote either unjust or ineffective government. Under the existing blueprint, we can neither rid ourselves of incompetent presidents nor assure continuity of government following catastrophic attacks. Less important, perhaps, but certainly problematic, is the appointment of Supreme Court judges for life. Adding insult to injury, the United States Constitution is the most difficult to amend or update of any constitution currently existing in the world today. Democratic debate leaves few stones unturned, but we tend to take our basic constitutional structures for granted. Levinson boldly challenges the American people to undertake a long overdue public discussion on how they might best reform this most hallowed document and construct a constitution adequate to our democratic values. "Admirably gutsy and unfashionable."
--Michael Kinsley, The New York Times "Bold, bracingly unromantic, and filled with illuminating insights. He accomplishes an unlikely feat, which is to make a really serious argument for a new constitutional convention, one that is founded squarely on democratic ideals."
--Cass R. Sunstein, The New Republic "Everyone who cares about how our government works should read this thoughtful book."
--Washington Lawyer
About the Author
Sanford Levinson holds the W. St. John Garwood and W. St. John Garwood, Jr. Centennial Chair in Law at the University of Texas Law School. The author of over 200 articles in professional and more popular journals, his books include Constitutional Faith (1988); Written in Stone (1998); Wrestling With Diversity (2003) and the edited volume, Torture: A Collection (Oxford University Press, 2004).
Advertisement