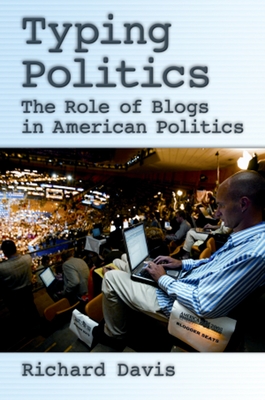 Typing Politics (Hardcover)
The Role of Blogs in American Politics
Oxford University Press, USA, 9780195373769, 241pp.
Publication Date: May 1, 2009
Other Editions of This Title:
Paperback (5/1/2009)
* Individual store prices may vary.
Description
The power of political blogs in American politics is now evident to anyone who follows it. In Typing Politics, Richard Davis provides a comprehensive yet concise assessment of the growing role played by political blogs and their relationship with the mainstream media. Through a detailed content analysis of the most popular political blogs--Daily Kos, Instapundit, Michelle Malkin, and Wonkette--he shows the degree to which blogs influence the traditional news media. Specifically, he compares the content of these blogs to four leading newspapers noted for their political coverage: The Washington Post, The New York Times, The Wall Street Journal, and The Washington Times. He explains how political journalists at these papers use blogs to inform their reportage and analyzes general attitudes about the role of blogs in journalism. Drawing on a national survey of political blog readers, Davis concludes with a novel assessment of the blog audience. Compact, accessible, and well-researched, Typing Politics will be an invaluable contribution to the literature on a phenomenon that has reshaped the landscape of political communication.

About the Author
Richard Davis is a professor of political science at Brigham Young University. He holds a PhD in Political Science from Syracuse University. He is the author or co-author of several books on American politics including Electing Justice: Fixing the Supreme Court Nomination Process (Oxford, 2005); Politics Online: Blogs, Chatrooms, and Discussion Groups in American Democracy, (Routledge, 2005); Campaigning Online (Oxford, 2003); The Web of Politics (Oxford, 1999); New Media and American Politics (Oxford, 1998); and Decisions and Images: The Supreme Court and the Press (Prentice Hall, 1994).