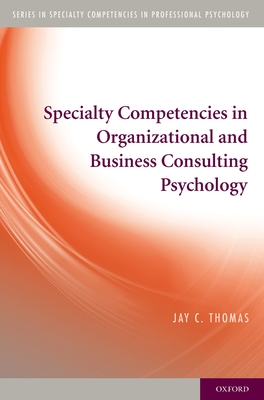 Specialty Competencies in Organizational and Business Consulting Psychology (Specialty Competencies in Professional Psychology)
Paperback

* Individual store prices may vary.
Description
Originally termed Industrial-Organizational Psychology (I/O), practitioners of this specialty emanate from varying backgrounds in business-psychology related fields. Although it was one of the original four specialties of the American Board of Professional Psychology established in 1947,
the domain of contemporary I/O professional practice can best be thought of as a hybrid across multiple traditions. For this volume in the series, Jay Thomas describes this particular hybrid model. The original board reflecting the specialty of I/O psychology (i.e., the American Board of
Industrial and Organizational Psychology) within the greater organization of the American Board of Professional Psychology (which at the time of this writing encompasses 13 differing specialty boards in professional psychology), reconstituted itself in 2005 to be the American Board of
Organizational and Business Consulting (OBC) Psychology. This name change was made in order to best capture the notion that specialists in this area can be educated and trained (and practice) in related, but somewhat differing traditions. Readers interested in this specialty area within psychology
will find this text invaluable as the most current description of the competencies thought important to help define the OBC psychologist. Series in Specialty Competencies in Professional Psychology Series Editors
Arthur M. Nezu and Christine Maguth Nezu As the field of psychology continues to grow and new specialty areas emerge and achieve recognition, it has become increasingly important to define the standards of professional specialty practice. Developed and conceived in response to this need for practical guidelines, this series presents methods, strategies, and techniques for conducting day-to-day practice in any given psychology specialty. The topical volumes address best practices across the functional and foundational competencies
that characterize the various psychology specialties, including clinical psychology, cognitive and behavioral psychology, school psychology, geropsychology, forensic psychology, clinical neuropsychology, couples and family psychology, and more. Functional competencies include common practice
activities like assessment and intervention, while foundational competencies represent core knowledge areas such as ethical and legal issues, cultural diversity, and professional identification. In addition to describing these competencies, each volume provides a definition, description, and
development timeline of a particular specialty, including its essential and characteristic pattern of activities, as well as its distinctive and unique features. Written by recognized experts in their respective fields, volumes are comprehensive, up-to-date, and accessible. These volumes offer invaluable guidance to not only practicing mental health professionals, but those training for specialty practice as well.

Oxford University Press, USA, 9780195385496, 240pp.
Publication Date: August 26, 2010
About the Author
Jay C. Thomas is the distinguished University Professor and Assistant Dean to the Counseling Psychology Program in the School of Professional Psychology at Pacific University.