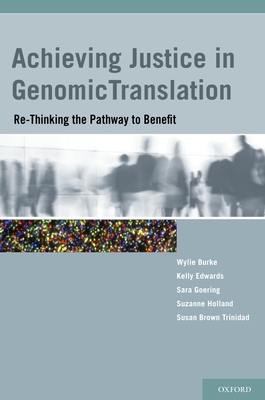 Achieving Justice in Genomic Translation (Hardcover)
Re-Thinking the Pathway to Benefit
Oxford University Press, USA, 9780195390384, 224pp.
Publication Date: September 15, 2011
* Individual store prices may vary.
Description
This book explores implicit choices made by researchers, policy makers, and funders regarding who benefits from society's investment in health research. The authors focus specifically on genetic research and examine whether such research tends to reduce or exacerbate existing health disparities. Using case examples to illustrate the issues, the authors trace the path of genetics research from discovery, through development and delivery, to health outcomes. Topics include breast cancer screening and treatment, autism research, pharmacogenetics, prenatal testing, newborn screening, and youth suicide prevention. Each chapter emphasizes the societal context of genetic research and illustrates how science might change if attention were paid to the needs of marginalized populations. Written by experts in genetics, health, and philosophy, this book argues that the scientific enterprise has a responsibility to respond to community needs to assure that research innovations achieve much needed health impacts.

About the Author
Wylie Burke, MD, PhD, is Professor and Chair of the Department of Bioethics and Humanities at the University of Washington, Seattle, WA. She is a physician, trained in internal medicine and genetics, whose work focuses on the ethical and policy implications of genetics in medicine, public health and research. She is Chair of the Institute of Medicine Roundtable on Translating Genome-based Research for Health and past President of the American Society of Human Genetics. Kelly Edwards, PhD, is an Associate Professor in the Department of Bioethics and Humanities, Core Faculty in the Institute for Public Health Genetics. She is also a co-investigator with the NHGRI-funded Center for Genomics and Healthcare Equality, the NCRR-funded Institute for Translational Health Sciences, and the NIEHS-funded Center for Ecogenetics and Environmental Health. Sara Goering, PhD, is Assistant Professor of Philosophy and member of the Program on Values in Society and the Program on Disability Studies at the University of Washington, Seattle, WA. She specializes in bioethics and her work combines feminist theory, disability studies, and concerns about justice for marginalized populations. Suzanne Holland, PhD, is Professor of Ethics & Religion and Philip M. Phibbs Research Scholar at University of Puget Sound in Tacoma, WA. She is an Affiliate Professor at University of Washington's School of Medicine, Department of Bioethics and Humanities, and a past Board member of the American Society for Bioethics and Humanities. Her work focuses on issues of justice, gender, new genetic technologies, and the commodification of the human body. Susan Trinidad, MA, is a qualitative researcher in the Department of Bioethics and Humanities and a co-investigator with the Center for Genomics and Healthcare Equality. Previously, she was Executive Director of Product Development for a company specializing in telephone nurse triage, patient education, and behavior-change counseling services for chronically ill patients.