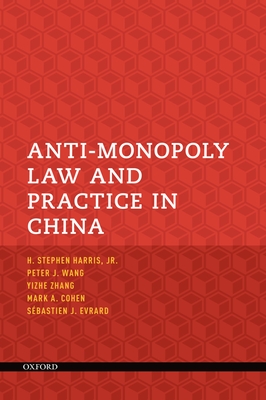 Anti-Monopoly Law and Practice in China (Paperback)
Oxford University Press, USA, 9780195394788, 592pp.
Publication Date: July 5, 2011
* Individual store prices may vary.
or
Not Currently Available for Direct Purchase
Description
The China Anti-Monopoly Law (AML), which became effective August 1, 2008, is the first comprehensive competition law enacted by China. The AML prohibits a broad array of agreements between competitors and commercial counterparties, as well as competitive conduct by single firms that may harm the competitive process. In addition, it establishes a mandatory administrative review procedure for mergers and acquisitions between companies meeting certain sales thresholds, globally or in China. Beyond these fundamental provisions, the AML prohibits certain types of administrative abuses believed to be prevalent in China and establishes a complex set of administrative agencies with broad powers to enforce the law. Anti-Monopoly Law and Practice in China is the first comprehensive treatment of the AML and the practice of antitrust law under this new system. Each chapter on the substantive provisions of the law includes practical advice on approaches to meeting the challenge of complying with the law's requirements, including analysis of likely interpretations and applications of the AML based on precedents in related economic laws and actions by other administrative agencies. Where policy choices are uncertain, the text will explore probable developments in China based on comparable applications of competition laws in other jurisdictions.

About the Author
H. Stephen Harris, Jr. is a partner in the Washington, DC office of Baker & McKenzie, where he handles U.S. and international antitrust litigation, mergers and acquisitions, and cartel investigations, as well as counseling on antitrust compliance. Peter J. Wang is a partner in the Shanghai and Beijing offices of Jones Day, where he handles complex disputes and antitrust matters in and relating to China, the United States, and worldwide. He also leads Jones Day's China antitrust practice. Yizhe Zhang is a senior associate in the Beijing office of Jones Day, where she specializes in competition law. Prior to joining Jones Day, she was an official with MOFCOM, and was involved in the drafting of the Anti-Monopoly Law. Mark A. Cohen was formerly counsel to the Beijing office of Jones Day, where he specialized in intellectual property matters and technology transfer. He has over 25 years legal experience in China. Sebastien J. Evrard is a partner in the Beijing office of Jones Day, where he focuses its practice on competition law in China and the European Union.
Advertisement