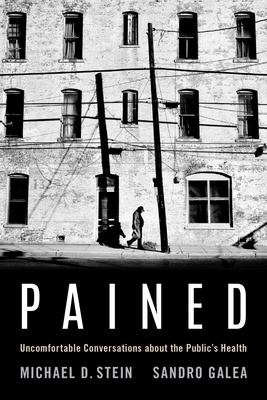 Pained
Uncomfortable Conversations about the Public's Health
Paperback

* Individual store prices may vary.
Description
A POLITICAL PROVOCATION FROM A PAIR OF PHYSICIANS WRITING OUTSIDE THEIR LANE Americans care about their health. Americans pay lots of money in hopes of maintaining their health. So why are Americans so unhealthy? The reason is simple: as a country, the United States overinvests in medical care at the expense of the social, economic, and cultural forces that produce health. The rise of medicine as a cornerstone of American life and culture has coincided with a social and political devaluation of factors demonstrated to mean more to our vitality than anything else -- influences like where we live, work, and play; livable wages that create opportunity for healthy living; and gender and racial equity. In Pained, physicians Michael Stein and Sandro Galea push the conversation around American health where it belongs: toward matters of class, money, and culture. Across more than 50 essays and data illustrations, Pained casts a light on how the structural components of everyday life -- like school, housing, police, even cell phones -- ultimately determine who gets to be healthy in today's America. In doing so, it makes a case for reframing our political discourse in less myopic, more effectual terms. Accessible and surprising, political but not partisan, Pained is the urgent, uncomfortable conversation that American needs in this challenging moment. It will delight and infuriate readers of all political stripes.

Oxford University Press, USA, 9780197510384, 272pp.
Publication Date: March 13, 2020
About the Author
MICHAEL STEIN is Professor and Chair of Health Law, Policy and Management of the School of Public Health at Boston University. He is primary care doctor and has been a leader in general medicine and substance use research and policy for two decades. He is Executive Editor of Public Health Post, a popular website on matters of population health. He is the author of six novels and two works of non-fiction. He has been interviewed by Terry Gross on NPR's Fresh Air and has been included in Best American Essays Notables. SANDRO GALEA is Robert A. Knox Professor and Dean of the School of Public Health at Boston University. He is a past president of the Society for Epidemiologic Research and of the Interdisciplinary Society for Population Health Science, chair of the board of the Association of Schools and Programs of Public Health, and is an elected member of the National Academy of Medicine.