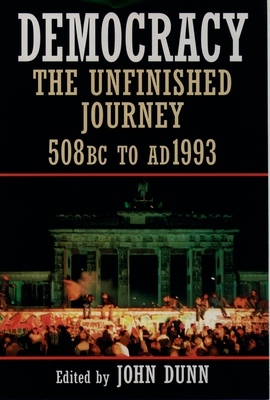 Democracy (Paperback)
The Unfinished Journey, 508 BC to Ad 1993
OUP Oxford, 9780198279341, 304pp.
Publication Date: January 27, 1994
Other Editions of This Title:
Hardcover (6/1/2006)
* Individual store prices may vary.
Description
The form of democracy first introduced 2,500 years ago by Kleisthenes--introduced, some scholars say, for his own personal gain--is quite different from what we call democracy today. And yet what was essentially a casual, practical solution to local Greek political difficulties has come to stand virtually unchallenged as the ground for modern political authority, and the questions which the Greeks first raised about the meaning of democratic rule still loom over our political and economic life. In Democracy, noted author John Dunn and twelve expert contributors trace the extraordinary political career of democracy from its appearance in ancient Greece to its recent resurrection in Eastern Europe. As the recent collapse of socialism demonstrates, the idea of democracy still holds a powerful attraction for us. By viewing its astonishing history across this great arc of time, the book shows why democracy today has both the power and the vulnerability which make it the key to understanding politics, and explains why it has triumphed so decisively in the modern world.