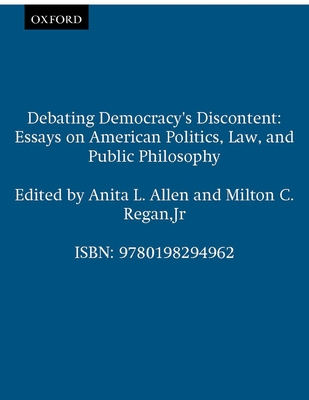 Debating Democracy's Discontent
Essays on American Politics, Law, and Public Philosophy
Paperback

* Individual store prices may vary.
Description
Here, a distinguished cast of some the world's finest political and legal theorists offer criticisms of Michael Sandel's Democracy's Discontent, a recent, popular, and influential call for a more moralistic democracy. In this collection, Sandel's liberal and feminist critics square off with his communitarian and civic republican sympathizers in a lively and wide-ranging discussion that spans constitutional law, culture, and political economy. Such practical, topical issues as immigration, gay marriage, federalism, adoption, abortion, corporate speech, militias, and economic disparity are debated alongside theories of civic virtue, citizenship, identity, and community. Not only does Debating Democracy's Discontent afford the most comprehensive and insightful critique to date of Sandel's volume, it also makes a significant, substantive contribution to contemporary political and legal philosophy in its own right. This book will prove essential to all who are interested in the future of American politics, law, and public philosophy.

Oxford University Press, USA, 9780198294962, 408pp.
Publication Date: March 4, 1999
About the Author
Anita L. Allen is Professor of Law and Associate Dean for Research and Scholarship at Georgetown University Law Center. Milton C. Regan, Jr., is Professor of Law at Georgetown University Law Center.