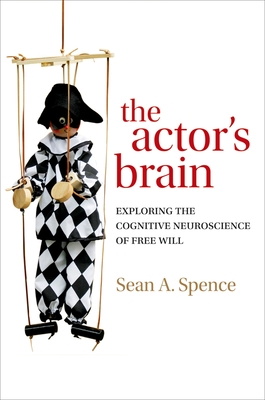 The Actor's Brain (Hardcover)
Exploring the Cognitive Neuroscience of Free Will
Oxford University Press, USA, 9780198526667, 434pp.
Publication Date: September 1, 2009
* Individual store prices may vary.
Description
Is free will just an illusion? What is within the brain that allows us to pursue our own actions and objections? What is it about this organ that permits the emergence of seemingly purposeful behaviour, giving us the impression that we are "free"? This book takes a journey through the anatomy and physiology, the structures and the processes, of the human brain to demonstrate what is known about the control of voluntary behaviour, when it is "normal" and when it breaks down. It starts by taking the reader from the basic "hard" anatomy supporting simple hand and finger movement, through to the "higher" structures of the human brain supporting the timing and selection of voluntary acts, and on towards a consideration of the complex distributed systems supporting voluntary behaviour (volition). Conditions elaborated upon along the way include the curious case of Dr. Strangelove and his anarchic, wayward limb, the belief in alien control experienced by sufferers of schizophrenia, the seemingly inexplicable paralyses encountered in hysterical conversion patients, and the biological processes that enable us to lie to each other and engage in violence. The book concludes by examining some of the many veried attempts that human factors have made to expand such a volitional space, to enhance their own self-control and creativity. Written in an engaging and accessible style, but with its roots in hard science, the book makes fascinating reading for psychiatrists, neuroscientists, and philosophers, and anyone who has ever wondered whether we are really free.

About the Author
Sean A Spence is Professor of General Adult Psychiatry at the University of Sheffield and Honorary Consultant Psychiatrist in Sheffield Health and Social Care Trust, where he is consultant to the Homeless Assessment and Support Team. He has previously held a De Witt-Wallace visiting research fellowship at Cornell University, New York (1999) and a MRC Clinical Training Fellowship on the MRC Cyclotron Unit, Hammersmith Hospital (1995 - 1998) while contemporaneously Honorary Lecturer in Psychiatry at Imperial College School of Medicine, London. In 1997 he was awarded both the Royal College of Psychiatrists Research Prize and Medal and the Royal Society of Medicine Section of Psychiatry Essay Prize. His principal research interest is in the regulation of voluntary behaviour (volition) in healthy people and those affected by neuropsychiatric disease. His clinical interests include the psychiatric care of the homeless and the socially marginalised.
or
Not Currently Available for Direct Purchase