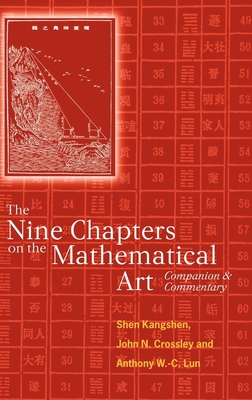 The Nine Chapters on the Mathematical Art
Companion and Commentary
Hardcover

* Individual store prices may vary.
Description
The Nine Chapters on the Mathematical Art has been the most important mathematical source in China for the past 2000 years, comparable in significance to Euclid's Elements in the West. The Nine Chapters quickly acquired a distinguished reputation, and was the standard mathematics textbook in China and the surrounding regions until Western science was introduced in about 1600. This volume contains the first complete English translation of the Nine Chapters, together with the illuminating commentary of Liu Hui written in the 3rd century AD and other early century commentaries and further insights provided by the translators. The Nine Chapters contains 246 problems and their solutions, which fall into nine categories that are firmly based on practical needs. There are methods for solving problems in areas such as land measurement, construction, agriculture, commerce, and taxation, while the Chinese commentators provide the algorithms needed to solve the problems, and explanations of how the algorithms work. The translators' commentary provides clear and accessible background material for the Western reader, explanations of technicalities, and notes on the treatment of similar or identical mathematical problems in other countries. This first, full-English translation gives us an idea of the distinctive style and important contributions that have been made by traditional Chinese mathematics.

Oxford University Press, USA, 9780198539360, 616pp.
Publication Date: January 20, 2000