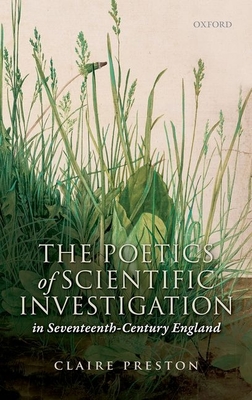 The Poetics of Scientific Investigation in Seventeenth-Century England (Hardcover)
Oxford University Press, USA, 9780198704805, 304pp.
Publication Date: February 17, 2016
* Individual store prices may vary.
Description
The writing of science in the period 1580-1700 is artfully, diffidently, carelessly, boldly, and above all self-consciously literary. The Poetics of Scientific Investigation in Seventeenth-Century English Literature considers the literary textures of science writing--its rhetorical figures, neologisms, its uses of parody, romance, and various kinds of verse. The experimental and social practices of science are examined through literary representations of the laboratory, of collaborative retirement, of virtual, epistolary conversation, and of an imagined paradise of investigative fellowship and learning. Claire Preston argues that the rhetorical, generic, and formal qualities of scientific writing are also the intellectual processes of early-modern science itself. How was science to be written in this period? That question, which piqued natural philosophers who were searching for apt conventions of scientific language and report, was initially resolved by the humanist rhetorical and generic skills in which they were already highly trained. At the same time non-scientific writers, enthralled by the developments of science, were quick to deploy ideas and images from astronomy, optics, chemistry, biology, and medical practices. Practicing scientists and inspired laymen or quasi-scientists produced new, adjusted, or hybrid literary forms, often collapsing the distinction between the factual and the imaginative, between the rhetorically ornate and the plain. Early-modern science and its literary vehicles are frequently indistinguishable, scientific practice and scientific expression mutually involved. Among the major writers discussed are Montaigne, Bacon, Donne, Browne, Lovelace, Boyle, Sprat, Oldenburg, Evelyn, Cowley, and Dryden.

About the Author
Claire Preston is Professor of Renaissance Literature at Queen Mary University of London. Her books include Thomas Browne and the Writing of Early-Modern Science, Bee, and Edith Wharton's Social Register. She is the recipient of Guggenheim and British Academy research awards and of the Rose Mary Crawshay Prize from the British Academy. She is the general editor of The Complete Works of Sir Thomas Browne (8 vols.).
or
Not Currently Available for Direct Purchase