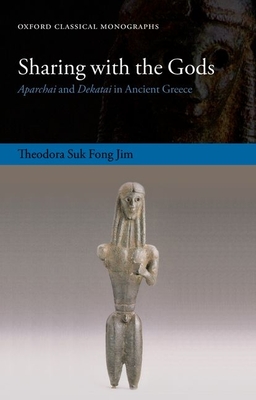 Sharing with the Gods
Aparchai and Dekatai in Ancient Greece (Oxford Classical Monographs)
Hardcover

* Individual store prices may vary.
Description
Sharing with the Gods examines one of the most ubiquitous yet little studied aspects of ancient Greek religion, the offering of so-called first-fruits (aparchai) and tithes (dekatai), from the Archaic period to the Hellenistic. While most existing studies of Greek religion tend to focus on ritual performance, this volume investigates questions of religious belief and mentality: why the Greeks presented these gifts to the gods, and what their behaviour tells us about their religious world-view, presuppositions, and perception of the gods. Exploiting an array of ancient sources, the author assesses the diverse nature of aparchai and dekatai, the complexity of the motivations underlying them, the role of individuals in shaping tradition, the deployment of this religious custom in politics, and the transformation of a voluntary practice into a religious obligation. By synthesizing a century of scholarship on 'first-fruits' practices in Greek and other religious cultures, the author challenges prevailing interpretations of gift-exchange with the gods in terms of do ut des and da ut dem, which emphasize the reciprocal, obligatory, and sometimes commercial aspects of the gift, and explores hitherto neglected notions including gratitude and thanksgiving. Drawing on current approaches to gift-giving in anthropology, sociology, and economics, in particular the French anthropologist Godelier's idea of 'debt', the volume offers new perspectives with which to conceptualize human-divine relations, and challenges traditional views of the nature of gift-giving between men and gods in Greek religion.

Oxford University Press, USA, 9780198706823, 373pp.
Publication Date: September 10, 2014
About the Author
Theodora Jim finished her doctorate at the University of Oxford (2008/9 - 2010/11), was a Research Scholar at the University of Hong Kong (2011/12 - 2012/13), and is currently a Faculty Academic Fellow in History at the University of Lancaster (2013-).
or
Not Currently Available for Direct Purchase