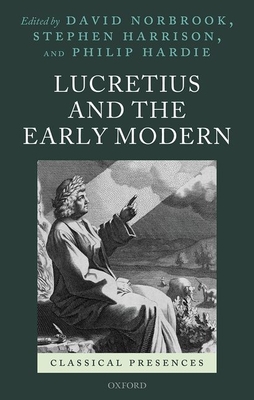 Lucretius and the Early Modern
Hardcover

* Individual store prices may vary.
Description
The rediscovery in the fifteenth century of Lucretius' De rerum natura was a challenge to received ideas. The poem offered a vision of the creation of the universe, the origins and goals of human life, and the formation of the state, all without reference to divine intervention. It has been hailed in Stephen Greenblatt's best-selling book, The Swerve, as the poem that invented modernity. But how modern did early modern readers want to become? This collection of essays offers a series of case studies which demonstrate the sophisticated ways in which some readers might relate the poem to received ideas, assimilating Lucretius to theories of natural law and even natural theology, while others were at once attracted to Lucretius' subversiveness and driven to dissociate themselves from him. The volume presents a wide geographical range, from Florence and Venice to France, England, and Germany, and extends chronologically from Lucretius' contemporary audience to the European Enlightenment. It covers both major authors such as Montaigne and neglected figures such as Italian neo-Latin poets, and is the first book in the field to pay close attention to Lucretius' impact on political thought, both in philosophy - from Machiavelli, through Hobbes, to Rousseau - and in the topical spin put on the De rerum natura by translators in revolutionary England. It combines careful attention to material contexts of book production and distribution with close readings of particular interpretations and translations, to present a rich and nuanced profile of the mark made by a remarkable poem.

Oxford University Press, USA, 9780198713845, 336pp.
Publication Date: December 1, 2015
About the Author
David Norbrook, Emeritus Merton Professor of English Literature, University of Oxford, Stephen Harrison, Fellow and Tutor in Classics, Corpus Christi College, and Professor of Latin Literature, University of Oxford, Philip Hardie, Senior Research Fellow, Trinity College, and Honorary Professor of Latin Literature, University of Cambridge David Norbrook is Emeritus Merton Professor of English Literature at the University of Oxford. Philip Hardie is a Senior Research Fellow at Trinity College, University of Cambridge. Stephen Harrison is a Fellow and Tutor in Classics at Corpus Christi College, University of Oxford.
or
Not Currently Available for Direct Purchase