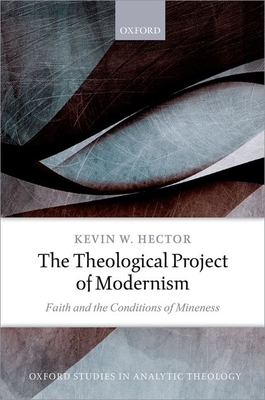 The Theological Project of Modernism
Faith and the Conditions of Mineness (Oxford Studies in Analytic Theology)
Hardcover

* Individual store prices may vary.
Description
Modernism's theological project was an attempt to explain two things: firstly, how faith might enable persons to experience their lives as hanging together, even in the face of disintegrating forces like injustice, tragedy, and luck; and secondly, how one could see such faith, and so a life
held together by it, as self-expressive. Modern theologians such as Kant, Schleiermacher, Hegel, Ritschl, and Tillich thus offer accounts of how one's life would have to hang together such that one could identify with it; of the oppositions which stand in the way of such hanging-together; of God as the one by whom oppositions are overcome,
such that one can have faith that one's life ultimately hangs together; and of what such faith would have to be like in order for one to identify with it, too. So understood, modern theology not only sheds light on faith's potential role in enabling persons to identify with their lives, but stands
in unexpected continuity with contemporary contextual theologies. This book offers clear, careful readings of modernism's key figures in order to explain their relevance to practical concerns and to contemporary understandings of faith.

Oxford University Press, USA, 9780198722649, 288pp.
Publication Date: November 1, 2015
About the Author
Kevin W. Hector is Associate Professor of Theology and of the Philosophy of Religions at the University of Chicago. He teaches theology and philosophy of religions and his research focuses on the intersections between modern theology and philosophy.
or
Not Currently Available for Direct Purchase