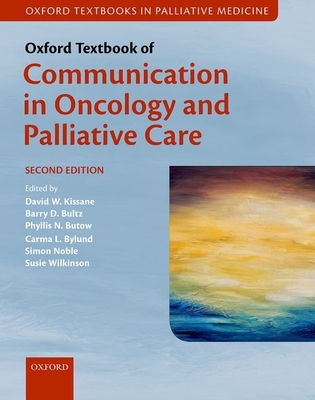 Oxford Textbook of Communication in Oncology and Palliative Care (Oxford Textbooks in Palliative Medicine) (Hardcover)
Oxford University Press, USA, 9780198736134, 432pp.
Publication Date: April 1, 2017
* Individual store prices may vary.
Description
Written by an international team of authors the Oxford Textbook of Communication in Oncology and Palliative Care integrates clinical wisdom with empirical findings. It draws upon the history of communication science, providing the reader with a comprehensive curriculum for applied communication skills training. An essential resource, the Oxford Textbook of Communication in Oncology and Palliative Care is filled with tips and strategies for effective communication about difficult and challenging communication. In focusing on cancer and the end-of-life, it deals with the existential and spiritual challenges found across all of medicine, providing deep insights into what is at stake and how clinicians might optimally respond. This authoritative and wide-ranging book provides clinicians with state-of-the-art and evidence-based guidelines to achieve effective, patient-centred communication in the clinical settings of oncology and palliative care. Thoroughly revised and updated, this new edition includes sections on the curriculum for nurses, the core curriculum, and an introductory section on communication science. The chapters embrace specialty issues across the clinical disciplines, from enrolling in clinical trials, working in teams, and discussing genetic risk, to talking about sexuality, infertility, and intercultural issues. An educational perspective is also provided, with chapters covering communication skills training, how to evaluate courses, and international models of training.

About the Author
David W. Kissane, Professor and Chair, Department of Psychiatry, School of Clinical Sciences at Monash Health, Monash University, Victoria, Australia; Professor of Psychiatry, Weill Medical College of Cornell University and Memorial Sloan-Kettering Cancer Center, New York, NY, USA, Barry D. Bultz, Director, Department of Psychosocial and Rehabilitation Oncology; Clinical Lead: Psychosocial Oncology, Supportive Care and Patient Experience, Tom Baker Cancer Centre; Professor and Head, Division of Psychosocial Oncology, Daniel Family Leadership Chair in Psychosocial Oncology, University of Calgary, Calgary, Alberta, Canada, Phyllis N. Butow, Professor and Co-Director, Centre for Medical psychology and Evidence-based Decision Making (CeMPED), School of Psychology, University of Sydney, Sydney, New South Wales, Australia, Carma L. Bylund, Associate Director, Medical Education, Hamad Medical Corporation, Doha, Qatar; Associate Professor of Communication Studies, Weill Cornell Medicine-Qatar, Simon Noble, Clinical Reader and Palliative Medicine Consultant, Aneurin Bevan University Health Board, Royal Gwent Hospital, Newport, UK, and Susie Wilkinson, International Liaison Lead, Marie Curie Palliative Care Institute Liverpool (MCPCIL), Cancer Research Centre, University of Liverpool, Liverpool, UK David W. Kissane, MBBS, MPM, MD, FRANZCP, FAChPM, FAPM is an academic psychiatrist, psycho-oncology researcher and palliative care physician. He is currently Head of the Department of Psychiatry for Monash University in Australia; previously Chairman of the Department of Psychiatry and Behavioral Sciences at Memorial Sloan-Kettering Cancer Center in New York; and, before that, Foundation Chair of Palliative Medicine at the University of Melbourne. His academic interests include group, couples and family psychotherapy trials, communication skills training, and bereavement care. His model of family-centred care in oncology prevents complicated grief; his cognitive-existential therapy prevents fear of recurrence; his Demoralization Scale measures low morale and poor adaptation. He was awarded the Arthur Sutherland Memorial Award for lifetime achievement by the International Psycho-Oncology Society in 2008. Barry Bultz, PhD is a clinical psychologist and active member of many collaborative psychosocial research initiatives and advisory committees, including editorial boards for cancer-related journals. He holds several grants and has published widely (over 100 papers). Dr Bultz carries the message of the importance of attending to the emotional needs of the patient into many areas in the health care system. He advocates for recognition of the impact of cancer-related distress on the patient's experience. Dr Bultz has championed, published and presents frequently on the importance of screening for distress and has advocated and promoted "Distress" being branded the "6th Vital Sign" in Oncology. This guideline has now been endorsed by over 75 international organizations and societies including the International Union for Cancer Control (UICC). Phyllis N Butow, BA(Hons), MPH, PhD, MClinPsych is Professor and NHMRC Senior Principal Research Fellow in the School of Psychology at the University of Sydney. She is Chair of the Australian Psycho-Oncology Co-operative Research Group (PoCoG) and a co-director of the Centre for Medical Psychology and Evidence-based Decision-making (CeMPED). Prof Butow has worked for over 20 years in the areas of doctor-patient communication and Psycho-Oncology. She has won many awards, including the International Psycho-Oncology Society Bernard Fox award for outstanding contribution to Psycho-Oncology research in 2009 and the Clinical Oncological Society of Australia Tom Reeve award for outstanding contribution to cancer care in 2011, and was named NSW Cancer Researcher of the year in 2012. Prof Butow has conducted a large body of research on patient and family support, patient involvement in cancer consultations and decision-making, and disparities in outcomes and needs of immigrants with cancer. Carma Bylund, PhD is Associate Director for Medical Education at Hamad Medical Corporation and Associate Professor of Communication Studies at Weill Cornell Medicine-Qatar. Her research and teaching focuses on understanding and improving healthcare communication in cancer prevention and care and on how families communicate about genetics. Dr Bylund is the author of 77 peer-reviewed publications and has received funding for several NIH grants in the U.S. Dr. Bylund was most recently Director of the Communication Skills Training and Research Laboratory at Memorial Sloan-Kettering Cancer Center, and co-developed the internationally used Comskil Training Program for physician and nurse communication skills. Simon Noble, MBBS, MD, FRCP is a Clinical Academic in Palliative Medicine at Cardiff University, Wales, where he is a tutor in the internationally recognised Diploma and MSc in Palliative Care. He has extensive experience in teaching communication skills within the multidisciplinary setting and a particular interest in how models of communication translate across differing cultures. His research interests include the patient experience of various aspects of the oncological journey, with particular emphasis on using these experiences to inform the role of new therapies in clinical practice. Susie Wilkinson, PhD, MSc, RN, RM RNT, RCNT is a cancer and palliative care nurse. She is International Liaison Lead, and Communication Skills Consultant for Marie Curie Palliative Care Institute Liverpool (MCPCIL), Advisory Board member for Dimbleby Cancer Care, Communication Skills Consultant to Northern Ireland Cancer Network, Trustee Gibraltar Society for Cancer Relief and advisor to Cudeca Hospice, Malaga, Spain. Her last substantive post was Head of Palliative Care Clinical Research for Marie Curie in the department she established at the Royal Free and UCL Medical School. In recognition of her work, Marie Curie established the "Susie Wilkinson Research Award" given annually. In 2009, she was awarded "Eminent Scientist of the Year" International Award in Palliative Care by the World Scientists Forum. Her main interests are communication skills training and complementary therapies which she has researched, published, and lectured on internationally for over 30 years.
or
Not Currently Available for Direct Purchase