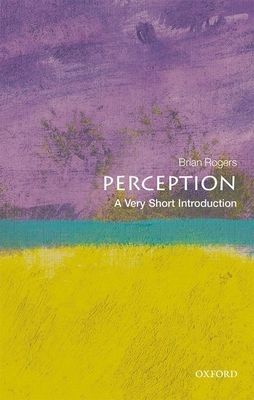 Perception
A Very Short Introduction (Very Short Introductions)
Paperback

* Individual store prices may vary.
Description
Perception is one of the oldest and most deeply investigated topics in the field of psychology, and it also raises some profound philosophical questions. It is concerned with how we use the information reaching our senses to guide and control our behavior as well as to create our particular, subjective experiences of the surrounding world. In this Very Short Introduction, Brian J. Rogers discusses the philosophical question of what it means to perceive, as well as describing how we are able to perceive the particular characteristics of objects and scenes such as their lightness, color, form, depth, and motion. What we perceive, however, does not always correspond to what exists in the world and, as Rogers shows, the study of illusions can be useful in telling us something about the nature and limitations of our perceptual processes. Rogers also explores perception from an evolutionary perspective, explaining how evolutionary pressures have shaped the perceptual systems of humans and other animals. He shows that perception is not necessarily a separate and independent process but rather part of a "perceptual system," involving both the extraction of perceptual information and the control of action. Rogers goes on to cover the significant progress made recently in the understanding of perception through the use of precise and controlled psychophysical methods, single cell recordings, and imaging techniques. There have also been many insights from attempts to model perceptual processes in artificial systems. As Rogers shows, these attempts have revealed how difficult it is to program machines to perform even the most simple of perceptual tasks that we take for granted. ABOUT THE SERIES: The Very Short Introductions series from Oxford University Press contains hundreds of titles in almost every subject area. These pocket-sized books are the perfect way to get ahead in a new subject quickly. Our expert authors combine facts, analysis, perspective, new ideas, and enthusiasm to make interesting and challenging topics highly readable.

Oxford University Press, USA, 9780198791003, 144pp.
Publication Date: December 26, 2017
About the Author
Brian Rogers is Emeritus Professor of Experimental Psychology at Oxford University. He is the co-author of a three-volume set, Perceiving in Depth, with Ian Howard, published by Oxford University Press. He is the Consulting Editor and Editorials Editor for the journal Perception.