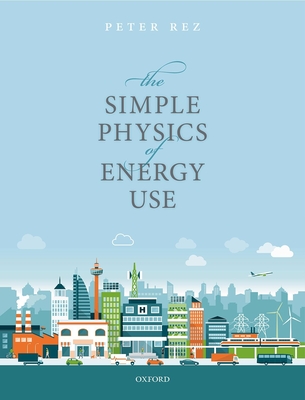 The Simple Physics of Energy Use (Paperback)
Oxford University Press, USA, 9780198802303, 304pp.
Publication Date: November 21, 2017
Other Editions of This Title:
Hardcover (11/21/2017)
* Individual store prices may vary.
Description
As a society we use energy for climate control and lighting in buildings, moving people and goods form one place to another and making things. Our standard of living depends on transforming energy locked up in fossil fuels, atomic nuclei or provided free of charge by the sun and wind into a form that we can use. This book uses simple classical physics (mechanics, thermodynamics and electromagnetism) to quantitatively review sources of energy and how we use them. It addresses key questions such as: Can renewables such as solar and wind take over from fossil fuels? How much will their use reduce CO2 emissions? To see what is important, numbers are used to estimate how big or small things are, but the maths is kept at the level of simple algebra and trigonometry. The aim is to give an overview of the big picture, to only worry about what really makes a difference. There's also growing concern that CO2 emissions from burning fossil fuels will change climate irreversibly in harmful ways.

About the Author
Peter Rez, Professor, Department of Physics, Arizona State University, UK Peter Rez completed his bachelors degree in Cambridge, and his PhD on Theory of Electron Scattering in Electron Microscopy, in Oxford. He has worked in industry (Kevex, VG Microscopes) on computer control and data acquisition in electron microscopy. He's been a professor at Arizona State since 1985. His interests have broadened to include general condensed matter theory as applied to batteries and strength of materials, radiation physics as applied to medical physics and radiation detectors, biomineralization and biophysics. This book came about from the author's interest in energy policy, another area where science and policy making collide.
or
Not Currently Available for Direct Purchase