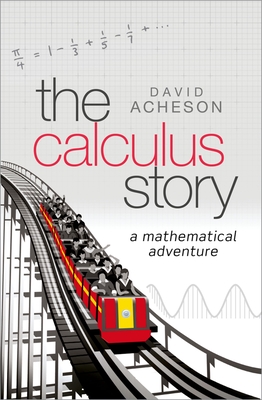 The Calculus Story
A Mathematical Adventure
Hardcover

* Individual store prices may vary.
Description
Calculus is the key to much of modern science and engineering. It is the mathematical method for the analysis of things that change, and since in the natural world we are surrounded by change, the development of calculus was a huge breakthrough in the history of mathematics. But it is also
something of a mathematical adventure, largely because of the way infinity enters at virtually every twist and turn... In The Calculus Story, David Acheson presents a wide-ranging picture of calculus and its applications, from ancient Greece right up to the present day. Drawing on their original writings, he introduces the people who helped to build our understanding of calculus. With a step-by-step treatment, he
demonstrates how to start doing calculus, from the very beginning.

Oxford University Press, USA, 9780198804543, 160pp.
Publication Date: February 3, 2018
About the Author
David Acheson, Emeritus Fellow, Jesus College, University of Oxford David Acheson is a British applied mathematician, best known for his popular maths book 1089 and All That (OUP, 2010), which has been translated into 11 languages. He is an Emeritus Fellow of Jesus College, Oxford, and was Oxford University's first winner of a National Teaching Fellowship, in 2004.He was President of the Mathematical Association for 2010-11, and now lectures widely on mathematics to young people and the general public. In 2013, David Acheson was awarded an Honorary D.Sc by the University of East Anglia for his outstanding work in the popularisation of mathematics.