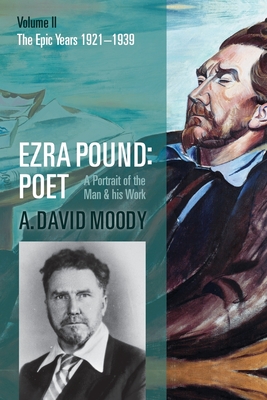 Ezra Pound
Poet: Volume II: The Epic Years
Paperback

* Individual store prices may vary.
Other Editions of This Title:
Paperback (12/18/2018)
Paperback (10/18/2009)
Hardcover (12/1/2015)
Hardcover (11/24/2007)
Hardcover (12/1/2014)
Description
The long-awaited second volume of A. David Moody's critically acclaimed three-part biography of Ezra Pound weaves together the illuminating story of his life, his achievements as a poet and a composer, and his one-man crusade for economic justice. The years 1921-1939 were the most productive
of Pound's career. In 1920s Paris, he was among the leading figures of the avant-garde and, in that ambience, he composed an opera, made original contributions to the theory of harmony, and wrote the first thirty cantos of his great epic. Moody explores this creativity in fascinating detail,
examining the environment that allowed for some of Pound's greatest work. This period also brought Pound's politics firmly into view and Moody is able to shed new light on his sympathy for Mussolini's Fascism, his invoking Confucian China as a model of responsible government, and his abiding
commitment to the democratic values of the American Constitution. Pound is revealed as a great poet and a flawed idealist caught up in the turmoil of his darkening time and struggling, sometimes blindly and in error and self-contradiction, to be a force for enlightenment.

Oxford University Press, USA, 9780198825593, 448pp.
Publication Date: December 4, 2018
About the Author
A. David Moody, Professor Emeritus, University of York A. David Moody is a Professor Emeritus of the University of York, and the author of the acclaimed Thomas Stearns Eliot: Poet (Cambridge University Press: 1979, 1994).