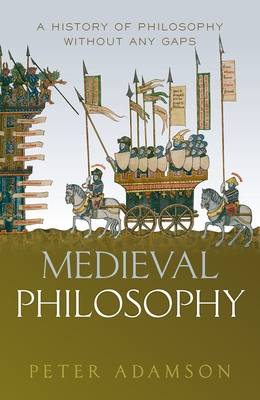 Medieval Philosophy
A History of Philosophy Without Any Gaps, Volume 4
Hardcover

* Individual store prices may vary.
Description
Peter Adamson presents a lively introduction to six hundred years of European philosophy, from the beginning of the ninth century to the end of the fourteenth century. The medieval period is one of the richest in the history of philosophy, yet one of the least widely known. Adamson introduces us to some of the greatest thinkers of the Western intellectual tradition, including Peter Abelard, Anselm of Canterbury, Thomas Aquinas, John Duns Scotus, William of Ockham, and Roger Bacon. And the medieval period was notable for the emergence of great women thinkers, including Hildegard of Bingen, Marguerite Porete, and Julian of Norwich. Original ideas and arguments were developed in every branch of philosophy during this period - not just philosophy of religion and theology, but metaphysics, philosophy of logic and language, moral and political theory, psychology, and the foundations of mathematics and natural science.

Oxford University Press, USA, 9780198842408, 672pp.
Publication Date: December 1, 2019
About the Author
Peter Adamson took his doctorate from the University of Notre Dame and first worked at King's College London. In 2012 he moved to the Ludwig-Maximilians-Universitat Munchen, where he is Professor of Late Ancient and Arabic Philosophy. He has published widely in ancient and medieval philosophy, especially on Neoplatonism and on philosophy in the Islamic world.