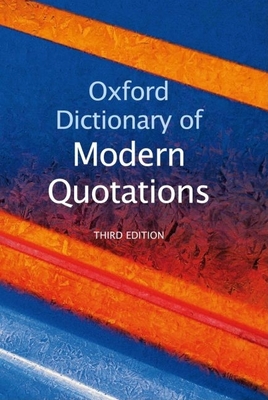 Oxford Dictionary of Modern Quotations (Oxford Paperback Reference) (Hardcover)
Oxford University Press, USA, 9780199208951, 479pp.
Publication Date: October 1, 2007
* Individual store prices may vary.
Description
This exciting new edition offers both a vivid picture both of the world today, and an enduring record of the landmark events and key voices leading to it, captured in thousands of memorable quotations. From Scott's Antarctic Expedition in 1912 to the attack on the World Trade Center in 2001, charting watersheds such as the two World Wars as well as the ebbs and flows of popular culture, the quotations gathered here evoke a fascinating picture of the social, political, cultural, and scientific highlights of modern times.
Containing more than 5,000 quotations from authors as diverse as Bertolt Brecht, George W. Bush, Homer Simpson, Carl Sagan, William Shatner, and Desmond Tutu, the dictionary is organized alphabetically by author, with generous cross-referencing and keyword and thematic indexes. This new edition features more than 500 new quotations and 187 new authors. Gathered here are literary figures such as Italo Calvino, J. M. Coetzee, and Toni Morrison; politicians ranging from Franklin D. Roosevelt and Winston Churchill to Rudy Giuliani and Bill Clinton; entertainers such as Halle Berry and Jerry Seinfeld; and star athletes such as David Beckham and Serena Williams. The book includes special sections featuring quotations from cartoons, films, political slogans, famous last words, misquotations, official advice, newspaper headlines and more. Finally, this edition boasts a new and unique selection process, using the largest ongoing language research program in the world, Oxford English Corpus, to ensure that all the most popular and widely-used quotations are here.
Informative and entertaining, stretching from the deeply serious to the frivolous and surreal, The Oxford Dictionary of Modern Quotations, Third Edition, will be a vital part of anyone's reference shelf, perfectly designed to answer the questions, -Who said what...and when...and why?-
About the Author
Elizabeth Knowles is the Editor of the Oxford Dictionary of Quotations. She is Publishing Manager for Oxford Quotations Dictionaries and is a historical lexicographer, having previously worked on the 4th edition of the Shorter Oxford English Dictionary.
or
Not Currently Available for Direct Purchase