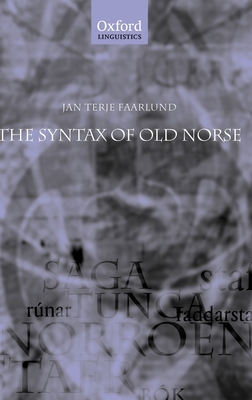 The Syntax of Old Norse (Hardcover)
With a Survey of the Inflectional Morphology and a Complete Bibliography (Oxford Linguistics)
Oxford University Press, USA, 9780199271108, 318pp.
Publication Date: December 9, 2004
Other Editions of This Title:
Paperback (3/1/2008)
* Individual store prices may vary.
Description
This book offers the first account of Old Norse syntax for almost a hundred years and the first ever in a non-Scandinavian language. The language of the Vikings and of the Old Icelandic sagas is the best documented medieval Germanic language and the author is able to present a comprehensive analysis of its syntax and overviews of its phonology and morphology. He supports his analyses with examples taken from Norwegian and Icelandic manuscript editions. Professor Faarlund's approach is descriptive, in a generative framework with a minimum of technical detail. He includes a complete bibliography of Old Norse syntax. The book is intended for advanced students and scholars of historical linguistics, Germanic and Scandinavian languages, Norse philology, and all others with a serious interest in Nordic languages, civilizations, and history.

About the Author
Jan Terje Faarlund is a professor of Scandinavian linguistics at the University of Oslo. He has earlier held the same position at the University of Trondheim, and he has been a professor of linguistics and Norwegian studies at the University of Chicago, where he is still affiliated as a research associate in the Department of Linguistics. His research interests and publications are mainly in the fields of Scandinavian languages, historical syntax, syntactic theory, typology, and Meso-American languages. Professor Faarlund has been a visiting professor at universities in Britain, Germany, Italy, Spain, Eastern Europe, Russia, and the U.S.