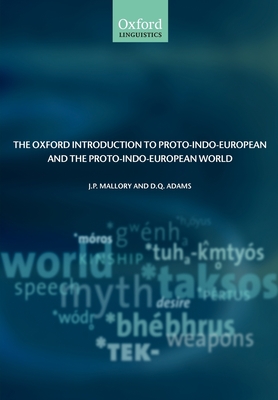 The Oxford Introduction to Proto-Indo-European and the Proto-Indo-European World (Oxford Linguistics)
Paperback

* Individual store prices may vary.
Other Editions of This Title:
Hardcover (7/1/2006)
Description
This book introduces Proto-Indo-European, describes how it was reconstructed from its descendant languages, and shows what it reveals about the people who spoke it between 5,500 and 8,000 years ago. Using related evidence from archaeology and natural history the authors explore the lives,
thoughts, passions, culture, society, economy, history, and environment of the Proto-Indo-Europeans. They include chapters on fauna, flora, family and kinship, clothing and textiles, food and drink, space and time, emotions, mythology, and religion, and describe the quest to discover the
Proto-Indo-European homeland.
OUP Oxford, 9780199296682, 760pp.
Publication Date: October 1, 2006
About the Author
J. P. Mallory is Professor of Prehistoric Archaeology at the Queen's University of Belfast. He holds a PhD in Indo-European Studies (1975) from the University of California. His books include In Search of the Indo-Europeans (1989) and, with Victor Mair, The Tarim Mummies: The Mystery of the FirstWesterners in Ancient China (2000). He is currently the editor of the Journal of Indo-European Studies and was elected to the Royal Irish Academy in 1996. D. Q. Adams is Professor of English at the University of Idaho. He holds a PhD in Linguistics (1972) from the University of Chicago (1972). His published work includes An Introduction to Tocharian Historical Morphology (1988), A Dictionary of Tocharian B (1999), and numerous articles onIndo-European and especially Tocharian topics. J. P. Mallory and D. Q. Adams are the co-editors of the Encyclopedia of Indo-European Culture (1997).