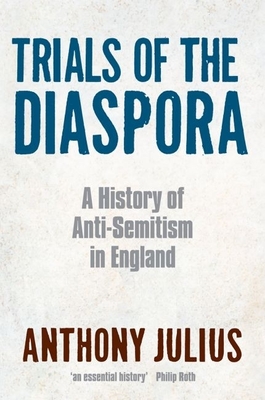 Trials of the Diaspora (Hardcover)
A History of Anti-Semitism in England
Oxford University Press, USA, 9780199297054, 811pp.
Publication Date: May 3, 2010
* Individual store prices may vary.
Description
Trials of the Diaspora is a ground-breaking book that reveals the full history of anti-Semitism in England. Anthony Julius focuses on four distinct versions of English anti-Semitism. He begins with the medieval persecution of Jews, which included defamation, expropriation, and murder, and which culminated in 1290 when King Edward I expelled all the Jews from England. Turning to literary anti-Semitism, Julius shows that negative portrayals of Jews have been continuously present in English literature from the anonymous medieval ballad "Sir Hugh, or the Jew's Daughter," through Shakespeare's Merchant of Venice, to T. S. Eliot and beyond. The book then moves to a depiction of modern anti-Semitism--a pervasive but contained prejudice of insult and exclusion that was experienced by Jews during their "readmission" to England in the mid-17th century through the late 20th century. The final chapters detail the contemporary anti-Semitism that emerged in the late 1960s and the 1970s and continues to be present today. It treats Zionism and the State of Israel as illegitimate Jewish enterprises, and, in Julius's opinion, now constitutes the greatest threat to Anglo-Jewish security and morale. A penetrating and original work, Trials of the Diaspora is sure to provoke much comment and debate.
About the Author
Anthony Julius is Chairman of the London Consortium, a Visiting Professor at Birkbeck College, University of London, and Vice-President of the Diana, Princess of Wales Memorial Fund. The author of several books, including T. S. Eliot: Anti-Semitism and Literary Form, he was the defense attorney in the renowned Irving vs. Lipstadt Holocaust denial case, and continues to be active in the fight against anti-Semitic activities.
or
Not Currently Available for Direct Purchase