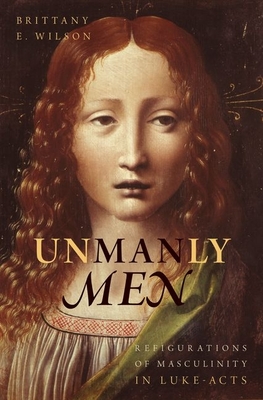 Unmanly Men (Hardcover)
Refigurations of Masculinity in Luke-Acts
Oxford University Press, USA, 9780199325009, 360pp.
Publication Date: April 21, 2015
* Individual store prices may vary.
Description
New Testament scholars typically assume that the men who pervade the pages of Luke's two volumes are models of an implied "manliness." Scholars rarely question how Lukan men measure up to ancient masculine mores, even though masculinity is increasingly becoming a topic of inquiry in the field of New Testament and its related disciplines. Drawing especially from gender-critical work in classics, Brittany Wilson addresses this lacuna by examining key male characters in Luke-Acts in relation to constructions of masculinity in the Greco-Roman world. Of all Luke's male characters, Wilson maintains that four in particular problematize elite masculine norms: namely, Zechariah (the father of John the Baptist), the Ethiopian eunuch, Paul, and, above all, Jesus. She further explains that these men do not protect their bodily boundaries nor do they embody corporeal control, two interrelated male gender norms. Indeed, Zechariah loses his ability to speak, the Ethiopian eunuch is castrated, Paul loses his ability to see, and Jesus is put to death on the cross. With these bodily "violations," Wilson argues, Luke points to the all-powerful nature of God and in the process reconfigures--or refigures--men's own claims to power. Luke, however, not only refigures the so-called prerogative of male power, but he refigures the parameters of power itself. According to Luke, God provides an alternative construal of power in the figure of Jesus and thus redefines what it means to be masculine. Thus, for Luke, "real" men look manifestly unmanly. Wilson's findings in Unmanly Men will shatter long-held assumptions in scholarly circles and beyond about gendered interpretations of the New Testament, and how they can be used to understand the roles of the Bible's key characters.

About the Author
Brittany E. Wilson is Assistant Professor of New Testament at Duke University Divinity School. She is a Regional Scholar for the Society of Biblical Literature and a recipient of the Kenneth Willis Clark Award for the Society of Biblical Literature-Southeast. She has published in a variety of journals, including New Testament Studies, the Journal of Biblical Literature, and The Catholic Biblical Quarterly, and is a contributor to the Women's Bible Commentary, Third Edition (2012).
or
Not Currently Available for Direct Purchase