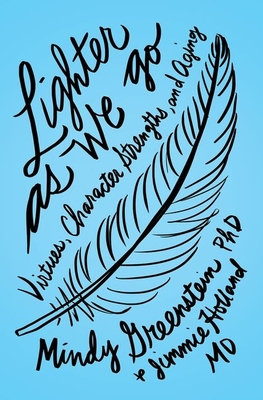 Lighter as We Go
Virtues, Character Strengths, and Aging
Hardcover

* Individual store prices may vary.
Description
The fears of aging have been one long cascading domino effect through the years: twenty year-olds dread thirty; forty year-olds fear fifty; sixty fears seventy, and so it goes. And there is something to worry about, though it isn't what you'd expect: research shows that having a bad attitude toward aging when we're young is associated with poorer health when we're older. These worries tend to peak in midlife; but in Lighter as We Go, Mindy Greenstein and Jimmie Holland show us that, contrary to common wisdom, our sense of well-being actually increases with our age--often even in the presence of illness or disability. For the first time, Greenstein and Holland--on a joint venture between an 85 year-old and a fifty year-old--explore positive psychology concepts of character strengths and virtues to unveil how and why, through the course of a lifetime, we learn who we are as we go. Drawing from the authors' own personal, intergenerational friendship, as well as a broad array of research from many different areas--including social psychology, anthropology, neuroscience, humanities, psychiatry, and gerontology--Lighter as We Go introduces compassion, justice, community, and culture to help calm our cascading fears of aging.

Oxford University Press, USA, 9780199360956, 312pp.
Publication Date: September 23, 2014
About the Author
Mindy Greenstein, PhD, is Clinical Psychologist and Psycho-oncologist, Writer and National Speaker, and Consultant to the geriatric psychiatry group in the Department of Psychiatry & Behavioral Sciences at Memorial Sloan-Kettering Cancer Center. Jimmie Holland, MD, is Wayne E. Chapman Chair in Psychiatric Oncology, Attending Psychiatrist, and Founder of the geriatric psychiatry group at the Department of Psychiatry & Behavioral Sciences at Memorial Sloan-Kettering Cancer Center and Professor of Psychiatry at Weill Medical School of Cornell University.
or
Not Currently Available for Direct Purchase