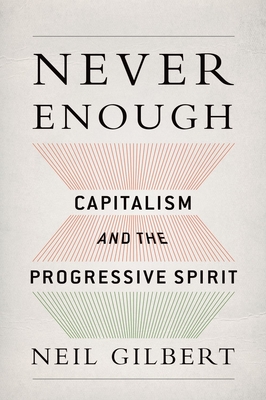 Never Enough
Capitalism and the Progressive Spirit
Hardcover

* Individual store prices may vary.
Description
It is said that greed fuels capitalism and socialism feeds on envy. But what happens in a stable society when a successful economy generates material progress for one population sector, while simultaneously creating income inequality and poverty for another sector? While this has long been a
classic debate for economists, Neil Gilbert, a social welfare theorist, offers a new take. In this landmark work, Gilbert addresses the long-standing tensions between capitalism and the progressive spirit and challenges the contemporary progressive outlook on the failures of capitalism. In doing
this, Never Enough analyzes the empirical evidence for conventional claims about the real level of poverty, the presumed causes and consequences of inequality, the meaning and underlying dynamics of social mobility, and the necessity for more social welfare spending and universal benefits. The book's careful analysis suggests that it is time to resist the material definition of progress that stands so high on the current agenda and envision alternative ways for our government to advance the good society. Insatiable consumption and the commodification of everyday life has dominated
the last half-century, and is encouraged by modern capitalism because it feeds the economy and is also used as a measure of individual success. But Gilbert argues that it is perhaps no longer the best way to stimulate the economy. Never Enough also challenges the prevailing assumptions about the
decline of middle-class prosperity, opportunity and material well-being in the United States and in other post-industrial nations. In a careful reading of the evidence and a critical analysis of its implications, Gilbert demonstrates the extent to which the customary progressive claims about the
severity of poverty, inequality, social mobility and the benefits of universalism not only distort the empirical reality of modern life in an era of abundance, but confounds efforts to help those most in need.

Oxford University Press, USA, 9780199361335, 232pp.
Publication Date: December 13, 2016
About the Author
Neil Gilbert is Chernin Professor of Social Welfare at Berkeley Social Welfare. He served as a Senior Research Fellow at the United Nations Research Institute for Social Development was twice awarded Fulbright Fellowships and served as a Visiting Scholar at the International Social SecurityAssociation, where he was a member of the Advisory Board on Social Security Research.