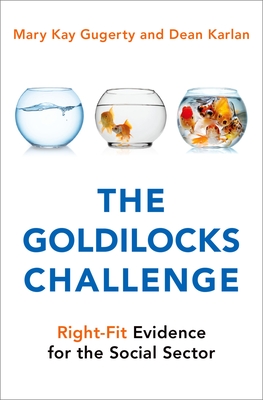 The Goldilocks Challenge (Hardcover)
Right-Fit Evidence for the Social Sector
Oxford University Press, USA, 9780199366088, 312pp.
Publication Date: May 1, 2018
* Individual store prices may vary.
Description
The social sector provides services to a wide range of people throughout the world with the aim of creating social value. While doing good is great, doing it well is even better. These organizations, whether nonprofit, for-profit, or public, increasingly need to demonstrate that their efforts are making a positive impact on the world, especially as competition for funding and other scarce resources increases. This heightened focus on impact is positive: learning whether we are making a difference enhances our ability to address pressing social problems effectively and is critical to wise stewardship of resources. Yet demonstrating efficacy remains a big hurdle for most organizations. The Goldilocks Challenge provides a parsimonious framework for measuring the strategies and impact of social sector organizations. A good data strategy starts first with a sound theory of change that helps organizations decide what elements they should monitor and measure. With a theory of change providing solid underpinning, the Goldilocks framework then puts forward four key principles, the CART principles: Credible data that are high quality and analyzed appropriately, Actionable data will actually influence future decisions; Responsible data create more benefits than costs; and Transportable data build knowledge that can be used in the future and by others. Mary Kay Gugerty and Dean Karlan combine their extensive experience working with nonprofits, for-profits and government with their understanding of measuring effectiveness in this insightful guide to thinking about and implementing evidence-based change. This book is an invaluable asset for nonprofit, social enterprise and government leaders, managers, and funders-including anyone considering making a charitable contribution to a nonprofit-to ensure that these organizations get it "just right" by knowing what data to collect, how to collect it, how it can be analyzed, and drawing implications from the analysis. Everyone who wants to make positive change should focus on the top priority: using data to learn, innovate, and improve program implementation over time. Gugerty and Karlan show how.

About the Author
bMary Kay Gugertyr is the Nancy Bell Evans Professor of Nonprofit Management at the Daniel J. Evans School of Public Policy & Governance at the University of Washington and the Faculty Director of the Nancy Bell Evans Center on Nonprofits and Philanthropy. Her research focuses on evaluation and impact measurement in the social sector; advocacy, accountability and voluntary regulation programs among nonprofits and NGOs; and agricultural and rural development in sub-Saharan Africa. bDean Karlanr is the Frederic Esser Nemmers Distinguished Professor of Economics and Finance at Northwestern University. His research focuses on evaluation of efforts to reduce poverty around the world. He is President and Founder of Innovations for Poverty Action, a nonprofit dedicated to discovering and promoting solutions to global poverty problems; and President and co-Founder of ImpactMatters, a nonprofit dedicated to guiding donors to evidence-based and cost-effective nonprofit organizations. He is also on the Executive Committee of the Board of Directors of the M.I.T. Jameel Poverty Action Lab.