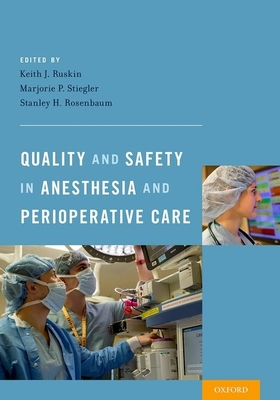 Quality and Safety in Anesthesia and Perioperative Care (Paperback)
Oxford University Press, USA, 9780199366149, 320pp.
Publication Date: October 10, 2016
* Individual store prices may vary.
Description
Quality and Safety in Anesthesia and Perioperative Care offers practical suggestions for improving quality of care and patient safety in the perioperative setting. Chapters are organized into sections on clinical foundations and practical applications, and emphasize strategies that support reform at all levels, from operating room practices to institutional procedures. Written by leading experts in their fields, chapters are based on accepted safety, human performance, and quality management science and they illustrate the benefits of collaboration between medical professionals and human factors experts. The book highlights concepts such as situation awareness, staff resource management, threat and error management, checklists, explicit practices for monitoring, and safety culture. Quality and Safety in Anesthesia and Perioperative Care is a must-have resource for those preparing for the quality and safety questions on the American Board of Anesthesiology certification examinations, as well as clinicians and trainees in all practice settings.

About the Author
Keith J. Ruskin is a Professor of Anesthesia and Critical Care at the University of Chicago in Chicago, Illinois. Marjorie P. Stiegler is an Associate Professor of Anesthesiology at the University of North Carolina in Chapel Hill, North Carolina. Stanley H. Rosenbaum is a Professor of Anesthesiology, Medicine, and Surgery at Yale University School of Medicine in New Haven, Connecticut.