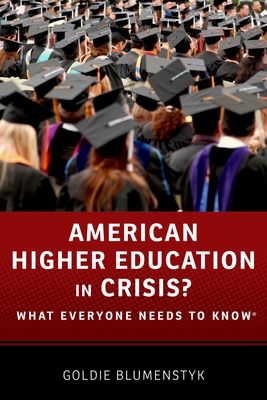 American Higher Education in Crisis? (Paperback)
What Everyone Needs to Know
Oxford University Press, USA, 9780199374083, 198pp.
Publication Date: October 13, 2014
* Individual store prices may vary.
Description
American higher education is at a crossroads. Technological innovations and disruptive market forces are buffeting colleges and universities at the very time their financial structure grows increasingly fragile. Disinvestment by states has driven up tuition prices at public colleges, and student debt has reached a startling record-high of one trillion dollars. Cost-minded students and their families--and the public at large--are questioning the worth of a college education, even as study after study shows how important it is to economic and social mobility. And as elite institutions trim financial aid and change other business practices in search of more sustainable business models, racial and economic stratification in American higher education is only growing. In American Higher Education in Crisis?: What Everyone Needs to Know, Goldie Blumenstyk, who has been reporting on higher education trends for 25 years, guides readers through the forces and trends that have brought the education system to this point, and highlights some of the ways they will reshape America's colleges in the years to come. Blumenstyk hones in on debates over the value of post-secondary education, problems of affordability, and concerns about the growing economic divide. Fewer and fewer people can afford the constantly increasing tuition price of college, Blumenstyk shows, and yet college graduates in the United States now earn on average twice as much as those with only a high-school education. She also discusses faculty tenure and growing administrative bureaucracies on campuses; considers new demands for accountability such as those reflected in the U.S. Department of Education's College Scorecard; and questions how the money chase in big-time college athletics, revelations about colleges falsifying rankings data, and corporate-style presidential salaries have soured public perception. Higher education is facing a serious set of challenges, but solutions ha.
About the Author
Goldie Blumenstyk is a senior writer at The Chronicle of Higher Education. Her stories have received numerous awards, including first place from the Education Writers Association for 2011 for beat reporting on the Business of Higher Education. She is a frequent speaker at higher-education industry conferences, at events designed for members of the news media, and as a guest on radio and public-television shows.