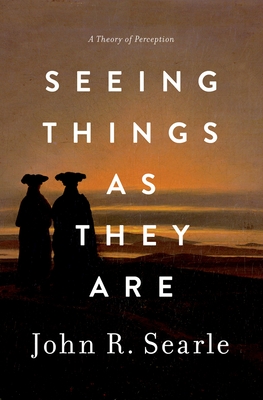 Seeing Things as They Are (Hardcover)
A Theory of Perception
Oxford University Press, USA, 9780199385157, 256pp.
Publication Date: February 25, 2015
* Individual store prices may vary.
Description
This book provides a comprehensive account of the intentionality of perceptual experience. With special emphasis on vision Searle explains how the raw phenomenology of perception sets the content and the conditions of satisfaction of experience. The central question concerns the relation between the subjective conscious perceptual field and the objective perceptual field. Everything in the objective field is either perceived or can be perceived. Nothing in the subjective field is perceived nor can be perceived precisely because the events in the subjective field consist of the perceivings, whether veridical or not, of the events in the objective field. Searle begins by criticizing the classical theories of perception and identifies a single fallacy, what he calls the Bad Argument, as the source of nearly all of the confusions in the history of the philosophy of perception. He next justifies the claim that perceptual experiences have presentational intentionality and shows how this justifies the direct realism of his account. In the central theoretical chapters, he shows how it is possible that the raw phenomenology must necessarily determine certain form of intentionality. Searle introduces, in detail, the distinction between different levels of perception from the basic level to the higher levels and shows the internal relation between the features of the experience and the states of affairs presented by the experience. The account applies not just to language possessing human beings but to infants and conscious animals. He also discusses how the account relates to certain traditional puzzles about spectrum inversion, color and size constancy and the brain-in-the-vat thought experiments. In the final chapters he explains and refutes Disjunctivist theories of perception, explains the role of unconscious perception, and concludes by discussing traditional problems of perception such as skepticism.

About the Author
John R. Searle is Willis S. and Marion Slusser Professor of Philosophy at the University of California, Berkeley. His previous publications include Making the Social World (2010) and Mind: A Brief introduction (2004), both from Oxford University Press.