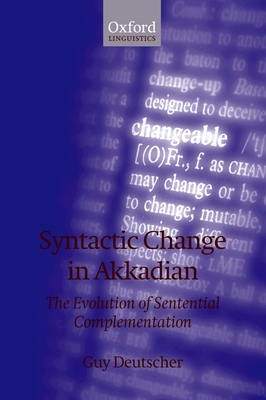 Syntactic Change in Akkadian
The Evolution of Sentential Complementation
Paperback

* Individual store prices may vary.
Other Editions of This Title:
Hardcover (1/25/2001)
Description
In this book Guy Deutscher examines the historical development of Akkadian, the oldest recorded Semitic language and one of the earliest attested languages. Two thousand years of texts from 2500BC to 500BC provide a unique source for the study of linguistic change. The first two parts of the book present an historical grammar of sentential complementation. Part one traces the emergence of new structures, describing how finite complements first developed, and tracing the grammaticalization of the quotative construction. Part two examines the language's functional history. It looks at the evolution of linguistic structures, showing for example how finite complements and embedded questions became more widespread as other parataxis and non-finite complements receded. In the final part of the book the author puts these changes in a broader typological perspective and compares the development of Akkadian to similar processes in other languages. The emergence of finite complementation may, he suggests, be an adaptive process, related to the growing complexity of communication. This book throws new light on the nature of linguistic change and offers fresh insights on a language that has rarely been presented to non-specialists, despite its enormous historical importance.

Oxford University Press, USA, 9780199532223, 224pp.
Publication Date: December 20, 2007
About the Author
Guy Deutscher is at the Department of Languages and Cultures of Ancient Mesopotamia at the University of Leiden in Holland. His book, The Unfolding of Language, was published in 2005 to both critical and popular acclaim.