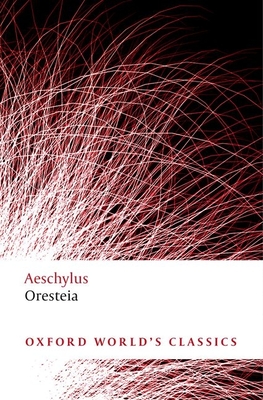 Oresteia (Paperback)
Oxford University Press, USA, 9780199537815, 320pp.
Publication Date: January 15, 2009
Other Editions of This Title:
Paperback (8/9/2018)
Paperback (3/7/2019)
Paperback (9/1/2018)
Paperback (3/11/2009)
Paperback (6/16/2015)
Paperback (10/1/2004)
Paperback (2/7/1984)
Paperback (5/16/2014)
Paperback (6/17/2004)
Paperback (3/15/2018)
Hardcover (10/23/2018)
Audio Cassette (4/1/2007)
Hardcover (1/20/2004)
Paperback (9/15/1998)
* Individual store prices may vary.
Description
The Oresteia is the only trilogy of tragedy plays to survive from Ancient Greece. Agamemnon, Libation Bearers, and Eumenides have established the enduring themes of Greek tragedy--the inexorable nature of Fate, the relationship between justice, revenge, and religion. In this family history, Fate and the gods decree that each generation will repeat the crimes and endure the suffering of their forebears. When Agamemnon is murdered by his wife, Clytemnestra, their son Orestes must avenge his father's death. Only Orestes' appeal to the goddess Athena saves him from his mother's Furies, breaking the bloody chain; together gods and humans inaugurate a way of just conduct that will ensure stable families and a strong community. About the Series: For over 100 years Oxford World's Classics has made available the broadest spectrum of literature from around the globe. Each affordable volume reflects Oxford's commitment to scholarship, providing the most accurate text plus a wealth of other valuable features, including expert introductions by leading authorities, voluminous notes to clarify the text, up-to-date bibliographies for further study, and much more. The Oresteia is majestic as theater and as literature, and this new translation seeks to preserve both these qualities. The introduction and notes emphasize the relationship between the scenes, ideas, and language that distinguishes this unique work.

About the Author
Christopher Collard was Professor of Classics at the University of Wales, Swansea from 1975 until his retirement in 1996. He has published annotated editions of Euripides' Suppliant Women, Hecuba, and Select Fragmentary Plays