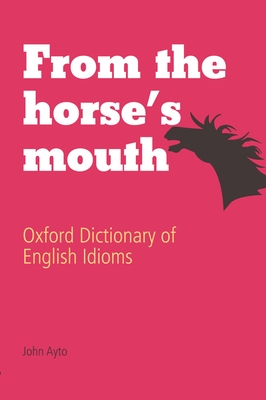 From the Horse's Mouth (Hardcover)
Oxford Dictionary of English Idioms
Oxford University Press, USA, 9780199543793, 408pp.
Publication Date: August 1, 2009
* Individual store prices may vary.
Description
Did you know that "taken aback" was adopted from nautical terminology? Or that "having an axe to grind" originated in a story told by Benjamin Franklin? These and many other idioms are explained and put into context in the delightful third edition of the Oxford Dictionary of English Idioms.
In this book, John Ayto offers a fresh look at the idiomatic phrases and sayings that make English the rich language that it is. The third edition contains entries for over 6,000 idioms, including 700 entirely new entries, based on Oxford's language monitoring and the ongoing third edition of the Oxford English Dictionary. These include a range of recently established idioms such as "the elephant in the corner," "go figure," "step up to the plate," "a walk in the park," and "win ugly." Some entries simply define the expression and offer examples from literature or journalism, but other entries include notes on the origin of the phrase. Thus we learn that "there's no accounting for tastes" is a direct translation of a Latin saying, that "amok" (in the expression "run amok") comes from the Malay word amuk, meaning "in a homicidal frenzy," and that "damn with faint praise" comes from Alexander Pope's poem "Epistle to Dr. Arbuthnot." The book also lists national variants, so that we learn that while in America they say "all over the map," in Britain they say "all over the shop." This edition also features a greatly increased number of cross-references, making it ideal for quick reference.
Anyone interested in the colorful side of the English language will get hours of fun browsing through this fascinating and informative volume.

About the Author
John Ayto is an experienced lexicographer and author of many language titles, including The Oxford Essential Guide to the English Language, The Longman Register of New Words, the Bloomsbury Dictionary of Word Origins, Twentieth Century Words, and Wobbly Bits and Other Euphemisms. He is also editor of the latest edition of Brewer's Dictionary of Phrase and Fable.
or
Not Currently Available for Direct Purchase