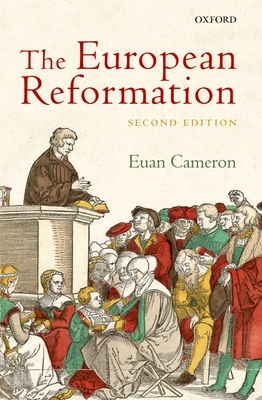 The European Reformation (Paperback)
Oxford University Press (UK), 9780199547852, 616pp.
Publication Date: May 16, 2012
* Individual store prices may vary.
Description
Since its first appearance in 1991, The European Reformation has offered a clear, integrated, and coherent analysis and explanation of how Christianity in Western and Central Europe from Iceland to Hungary, from the Baltic to the Pyrenees splintered into separate Protestant and Catholic identities and movements. Catholic Christianity at the end of the Middle Ages was not at all a uniformly 'decadent' or corrupt institution: it showed clear signs of cultural vigour and inventiveness. However, it was vulnerable to a particular kind of criticism, if ever its claims to mediate the grace of God to believers were challenged. Martin Luther proposed a radically new insight into how God forgives human sin. In this new theological vision, rituals did not 'purify' people; priests did not need to be set apart from the ordinary community; the church needed no longer to be an international body. For a critical 'Reformation moment', this idea caught fire in the spiritual, political, and community life of much of Europe. Lay people seized hold of the instruments of spiritual authority, and transformed religion into something simpler, more local, more rooted in their own community. So were born the many cultures, liturgies, musical traditions and prayer lives of the countries of Protestant Europe. This new edition embraces and responds to developments in scholarship over the past twenty years. Substantially re-written and updated, with both a thorough revision of the text and fully updated references and bibliography, it nevertheless preserves the distinctive features of the original, including its clearly thought-out integration of theological ideas and political cultures, helping to bridge the gap between theological and social history, and the use of helpful charts and tables that made the original so easy to use.

About the Author
Euan Cameron is Henry Luce III Professor of Reformation Church History, Union Theological Seminary, New York, and has taught previously at the University of Oxford and the University of Newcastle upon Tyne. He is the author of a number of other works on late medieval and early modern religious history, including The Reformation of the Heretics (1984), Waldenses: Rejections of Holy Church in Medieval Europe (2000), and Enchanted Europe: Superstition, Reason and Religion 1250-1750 (2010). He is the editor of Early Modern Europe: An Oxford History (1999) and the sixteenth century volume in the Short Oxford History of Europe series (2006).