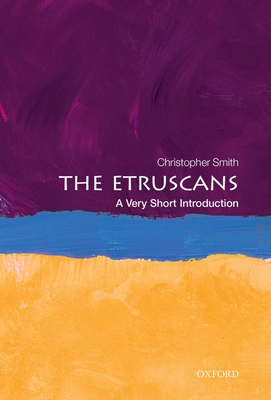 The Etruscans (Very Short Introductions)
Paperback

* Individual store prices may vary.
Description
From around 900 to 400 BC, the Etruscans were the most innovative, powerful, wealthy, and creative people in Italy. Their archaeological record is both substantial and fascinating, including tomb paintings, sculpture, jewelry, and art. In this Very Short Introduction, Christopher Smith explores Etruscan history, culture, language, and customs. Examining the controversial debates about their origins, he explores how they once lived, placing them within the geographical, economic, and political context of the time. Smith concludes by demonstrating how the Etruscans have been studied and perceived throughout the ages, and the impact this has had on our understanding of their place in history.
About the Series:
Oxford's Very Short Introductions series offers concise and original introductions to a wide range of subjects--from Islam to Sociology, Politics to Classics, Literary Theory to History, and Archaeology to the Bible. Not simply a textbook of definitions, each volume in this series provides trenchant and provocative--yet always balanced and complete--discussions of the central issues in a given discipline or field. Every Very Short Introduction gives a readable evolution of the subject in question, demonstrating how the subject has developed and how it has influenced society. Eventually, the series will encompass every major academic discipline, offering all students an accessible and abundant reference library. Whatever the area of study that one deems important or appealing, whatever the topic that fascinates the general reader, the Very Short Introductions series has a handy and affordable guide that will likely prove indispensable.

Oxford University Press (UK), 9780199547913, 148pp.
Publication Date: July 1, 2014
About the Author
Christopher Smith is Director of the British School at Rome, Professor of Ancient History at the University of St. Andrews, and was Visiting Professor at La Sapienza University. His research focuses on political, social, and constitutional writing. He has authored two books: The Roman Clan: The Gens from Ancient Ideology to Modern Anthropology (Cambridge 2006) and Early Rome and Latium: Economy and Society c. 1000 to 500 B C (Oxford 1996).