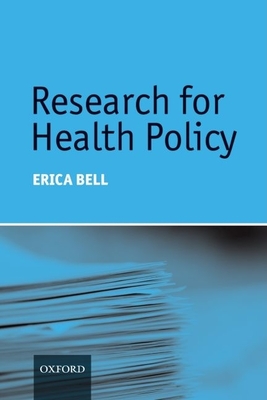 Research for Health Policy (Paperback)
Oxford University Press, USA, 9780199549337, 224pp.
Publication Date: December 1, 2009
* Individual store prices may vary.
Description
Individuals working in health research want to be able to use their findings to influence health policy. However, frequently, research evidence remains detached from practice, and there is a divide between research and policy. Research for Health Policy is an introduction to the emerging genre of applied research for policy decision-making, offering new research methods that go far beyond the traditional classical experimental techniques and standard qualitative methods. This highly practical and practice-based book is relevant to researchers in different disciplines and countries, and it will equip the reader with the knowledge, skills and attitudes needed to deliver policy-relevant research in the government, not-for-profit, and private sectors. As a book that helps its reader to develop the blend of strategic people skills, methodological inventiveness, research entrepreneurship, creative design, and policy writing know-how that is critical to delivering useful research evidence for policy, Research for Health Policy is essential reading for anyone doing, studying or teaching health policy advocacy and research. It also has much to offer postgraduate and professional development students and their educators who want to move beyond the common undergraduate focus on policy content areas and policy theory/process, to learn more advanced practical research skills for policy-making.

About the Author
Dr. Erica Bell is Deputy Director at the University Department of Rural Health, University of Tasmania. She has 40 academic journal and conference papers and presentations across diverse subdisciplines of health and allied social services: adolescent substance abuse, domestic violence and child health, youth crime prevention, healthy aging and falls prevention, chronic disease, hospital error and medical education reform. Her work in research methods for health policy and practice across these subdisciplines is represented in her OUP book, Research for Health Policy. Erica also has a strong record of community-based research and policy consultancy work, being the author of 44 applied research reports that have developed policy and practice across health and education specialities and sectors. Prior to her employment in 2004 in rural health at the University of Tasmania, she was a policy research manager in the Queensland government leading a diverse multidisciplinary research team.
or
Not Currently Available for Direct Purchase