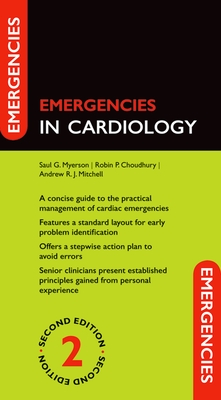 Emergencies in Cardiology (Vinyl-bound)
Oxford University Press, USA, 9780199554386, 437pp.
Publication Date: February 22, 2010
* Individual store prices may vary.
Description
Acute cardiology problems often need quick, appropriate diagnosis and treatment. With the increasing complexity and rapidly-changing nature of available therapies, knowing which to use and when can be difficult. The freshly updated Emergencies in Cardiology, Second Edition, provides an easily-accessible guide to diagnosing and managing acute cardiovascular problems, incorporating both symptom-based and disease-based sections. Both are cross-referenced to each other, allowing rapid access to accurate, up-to-date information. There are specific sections on the management of cardiovascular problems in pregnancy and adult congenital heart disease, in addition to more practical sections on how to perform emergency cardiology procedures and ECG recognition.
The book is designed for busy medical and cardiology teams, with bullet-point information for speed and clarity combined with the integral cross-referencing system, enabling quick access to the necessary information.
About the Author
Saul Myerson is a consultant cardiologist at the John Radcliffe Hospital in Oxford and a clinical fellow at the University of Oxford Department of Cardiovascular Medicine. He graduated from Bristol University before completing further specialist training in London and Oxford, undertaking research leading to an MD degree from UCL in 2002. Dr Myerson's specialist interests include valvular heart disease, cardiomyopathies and advanced cardiac imaging, particularly cardiovascular magnetic resonance, and his research programme is also in these areas. He supervises cardiology teaching at the University of Oxford Medical School, and has a strong interest in teaching and assessment. He has published over 50 papers and book chapters in clinical cardiology, edited three books and is a reviewer for several international journals. Dr Myerson was President of the British Junior Cardiologists Association from 2005-7 and was awarded Fellowship of the European Society of Cardiology (FESC) in 2007. Robin Choudhury is an interventional cardiologist at the John Radcliffe Hospital and Clinical Director of the Oxford Acute Vascular Imaging Centre. He qualified in medicine at the University of Oxford with postgraduate training in London (Royal Brompton and Hammersmith Hospitals) and New York (Cardiovascular Institute, Mount Sinai School of Medicine). He is President of the Royal Society of Medicine Section on Lipids and Vascular Risk, and serves on the Council of the Society of Atherosclerosis Imaging and Prevention. He is the recipient of numerous awards and honours including the Michael Davis Award of the British Cardiovascular Society and is a Fellow of the American College of Cardiology. His research interests focus on the development and application of imaging techniques for the characterization of atherosclerosis, thrombosis and vascular inflammation and on interventions to regress atherosclerosis. His laboratory is supported by the Wellcome Trust and the British Heart Foundation. Andrew Mitchell is Consultant Cardiologist in Jersey, Channel Islands and Honorary Consultant Cardiologist at the John Radcliffe Hospital, Oxford, UK. He trained at Southampton University before completing further specialist training at Truro, Eastbourne and Oxford. Dr Mitchell has published over 120 papers and abstracts on aspects of clinical cardiology and edited three handbooks on cardiology procedures (Echocardiography, Cardiac catheterisation and coronary angiography and Pacemakers & ICDs). His specialist interests include the non-pharmacological management of atrial fibrillation and advanced echocardiography, in particular the application of intracardiac echocardiography. Dr Mitchell was awarded an MD from the University of London in 2004, achieved Fellowship of the European Society of Cardiology (FESC) in 2005 and became Fellow of the American College of Cardiology (FACC) in 2007.
or
Not Currently Available for Direct Purchase