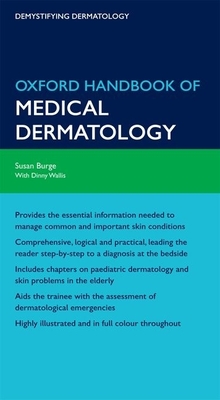 Oxford Handbook of Medical Dermatology (Vinyl-bound)
Oxford University Press, USA, 9780199558322, 621pp.
Publication Date: January 29, 2011
* Individual store prices may vary.
Description
Although skin conditions are common and affect people of all ages, little time is available for dermatology in the undergraduate curriculum. Junior doctors feel unprepared when faced with patients with skin conditions and most are unsure how to reach a diagnosis or plan management. The Oxford Handbook of Medical Dermatology provides accessible and practical advice that meets the needs of healthcare professionals working in hospitals. It will also be of value to those working in the community, and to medical students.
This book focuses on medical rather than surgical dermatology. Highly illustrated and in full colour, it covers the common skin conditions seen in all branches of medicine, the cutaneous signs of systemic disease, and the art of making a diagnosis. The problem-based approach and the pocket-size make the book an invaluable bedside tool. Readers are led through the necessary steps in order to reach a diagnosis at the bedside.
Chronic skin diseases are disabling and embarrassing. This handbook promotes a patient-centred approach and good communication, and clinicians are encouraged to use simple quality of life measure to evaluate the impact of skin conditions on the patient.
About the Author
Sue Burge has a longstanding interest in medical education, both undergraduate and postgraduate. She is currently Director of Teaching for the dermatology department for the Oxford Radcliffe Hospitals NHS Trust. She was also Director of Clinical Studies at the Oxford Medical School from 1999 to 2002, and remains an Associate Director. She is an Honorary Lecturer for Oxford University. Sue was the founder and Course Director of "Learning, Teaching and Assessment in Dermatology," the first course specifically designed for educators in dermatology. In 2006 she wrote the national recommendations for a dermatology undergraduate curriculum, published by the British Association of Dermatologists. Sue was awarded an OBE in 2003 for services to dermatology, and was elected to International Honorary membership of American Dermatological Association as recognition as a leader in dermatology, and she is a founding member of the British Society for Medical Dermatology. Dinny Wallis is a Specialty Registrar in Rheumatology training in the Severn Deanery. After graduating from Bristol University Medical School, she spent a year working in Australia before returning to Bristol to complete general medical training. Since specialising in rheumatology, she has worked in Yeovil District Hospital, the Bristol Royal Infirmary and currently the Royal National Hospital for Rheumatic Diseases, Bath.
or
Not Currently Available for Direct Purchase