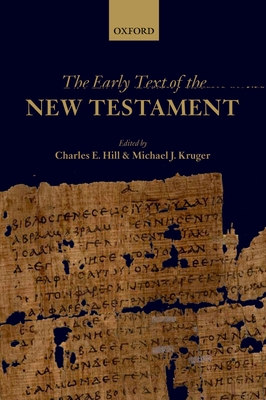 The Early Text of the New Testament
Hardcover

* Individual store prices may vary.
Other Editions of This Title:
Paperback (8/12/2014)
Description
The Early Text of the New Testament aims to examine and assess from our earliest extant sources the most primitive state of the New Testament text now known. What sort of changes did scribes make to the text? What is the quality of the text now at our disposal? What can we learn about the
nature of textual transmission in the earliest centuries? In addition to exploring the textual and scribal culture of early Christianity, this volume explores the textual evidence for all the sections of the New Testament. It also examines the evidence from the earliest translations of New Testament
writings and the citations or allusions to New Testament texts in other early Christian writers.
Oxford University Press, USA, 9780199566365, 384pp.
Publication Date: September 7, 2012
About the Author
Charles E. Hill (Ph.D. Cambridge University) is Professor of New Testament at Reformed Theological Seminary in Orlando, Florida. His other books include Regnum Caelorum: Patterns of Future Hope in Early Christianity and The Johannine Corpus in the Early Church, both published by Oxford UniversityPress, and From the Lost Teaching of Polycarp: Identifying Irenaeus' Apostolic Presbyter and the Author of ad Diognetum published by J. C. B. Mohr (Paul Siebeck). Michael J. Kruger (Ph.D. University of Edinburgh) is Professor of New Testament at Reformed Theological Seminary, Charlotte, NC and is the author of the Gospel of the Savior: An Analysis of P.Oxy. 840 and its Place in the Gospel Traditions of Early Christianity (Brill, 2005) and co-author of GospelFragments (Oxford, 2009).