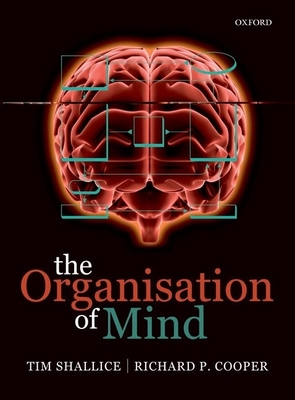 The Organisation of Mind
Paperback

* Individual store prices may vary.
Description
Brain imaging has been immensely valuable in showing us how the mind works. However, many of our ideas about how the mind works come from disciplines like experimental psychology, artificial intelligence and linguistics, which in their modern form date back to the computer revolution of the 1940s, and are not strongly linked to the subdisciplines of biomedicine. Cognitive science and neuroscience thus have very separate intellectual roots, and very different styles. Unfortunately, these two areas of knowledge have not been well integrated as far as higher mental processes are concerned. So how can these two be reconciled in order to develop a full understanding of the mind and brain? This is the focus of this landmark book from leaders in the field. Coming more than two decades after Shallice's classic 'From neuropsychology to mental structure', 'The Organisation of Mind' establishes a strong historical, empirical, and theoretical basis for cognitive neuroscience. The book starts by reviewing the history and intellectual roots of the field, looking at some of the researchers who guided and influenced it. The basic principles - theoretical and empirical and the inferential relation between them - are then considered with particular emphasis being placed on inferences to the organisation of the cognitive system from two empirical methodologies - neuropsychology and functional imaging. The core skeleton of the cognitive system is then analysed for the areas most critical for understanding rational thought. In the third section the components of simple cognitive acts are described, namely semantic processing, working memory, and cognitive operations. In the final section, more complex higher-level modulating processes are considered, including, supervisory processing, episodic memory, consciousness and problem-solving. This will be a seminal publication in the brain sciences - one that all students and researchers will have to read.

Oxford University Press, USA, 9780199579242, 593pp.
Publication Date: May 8, 2011
About the Author
Tim Shallice was the founding director of the Institute of Cognitive Neuroscience, part of University College London, where he is an emeritus professor. He has been a professor in the Cognitive Neuroscience Sector of SISSA, Trieste since 1994. He was influential in laying the foundations for the discipline of cognitive neuropsychology, by formalising many of its methods and assumptions in the book From Neuropsychology to Mental Structure. He has also worked on many core problems in cognitive neuropsychology, and cognitive neuroscience including executive functions, language and memory. Richard Cooper originally studied mathematics and computer science at the University of Newcastle, Australia. He obtained a Commonwealth Scholarship to complete his PhD in Cognitive Science at the University of Edinburgh, before taking up a PostDoc position at the Department of Psychology at University College London, in 1990, to work with Professors Fox and Shallice. In 1995 Cooper moved to a lectureship in the Department of Psychological Sciences at Birkbeck, University of London. He is currently Reader in Cognitive Science in that department. He has published extensively in computational cognitive modelling and led the development of the COGENT graphical cognitive modelling environment.
or
Not Currently Available for Direct Purchase