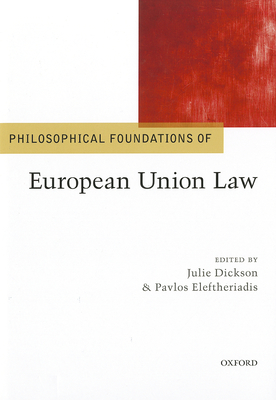 Philosophical Foundations of European Union Law (Philosophical Foundations of Law) (Hardcover)
Oxford University Press, USA, 9780199588770, 457pp.
Publication Date: December 12, 2012
* Individual store prices may vary.
Description
The supranational law of the European Union represents a uniquely powerful, far-reaching, and controversial instance of the growth of international legal governance, one that has forever altered the political and legal landscape of its Member States. The EU has attracted significant attention from political scientists, economists, and lawyers who have analysed its polity and constructed theoretical models of the integration process. Yet it has been almost entirely neglected by analytic philosophers, and the philosophical tools that have been developed to analyse and evaluate the Union are still in their infancy.
This book brings together legal philosophers, political philosophers, and EU legal academics in the service of developing the philosophical analysis of EU law. In a series of original and complementary essays they bring their varied disciplinary expertise and theoretical perspectives to bear on central issues facing the Union and its law. Combining both abstract thought in legal and political philosophy and more tangible theoretical work on specific legal issues, the essays in this volume make a significant contribution to developing work on the philosophical foundations of EU law, and will engender further debate between philosophers, political philosophers, and EU legal academics. They will be of interest to all those engaged in understanding the nature and purpose of this unique legal entity.

About the Author
Dr Julie Dickson studied law and legal philosophy at the University of Glasgow, and at Balliol College, Oxford. She was an academic at the University of Leicester and at University College London before taking up her current post as Fellow and Senior Law Tutor at Somerville College, Oxford, in 2002. She is the review articles editor of the Oxford Journal of Legal Studies and is on the editorial board of legal theory journals Law and Philosophy, Legal Theory, Transnational Legal Theory, and Problema. Pavlos Eleftheriadis studied in Athens and Cambridge. He is a Fellow in Law at Mansfield College Oxford and a Barrister at Francis Taylor Building. He specializes in public law, EU law, and legal philosophy. He has been a visiting professor at Columbia Law School. His book Legal Rights was published in 2008 by OUP.
or
Not Currently Available for Direct Purchase