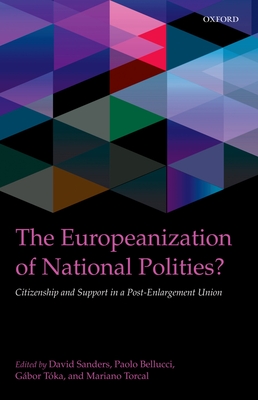 The Europeanization of National Polities? (Hardcover)
Citizenship and Support in a Post-Enlargement Union (Intune)
Oxford University Press, USA, 9780199602346, 304pp.
Publication Date: June 18, 2012
* Individual store prices may vary.
Description
The central concern ofThe Europeanization of National Polities? is to know and describe how far EU 'legal' citizens feel that they are actually part of a functioning European political system and how much they think of themselves as EU citizens. The authors report evidence of the levels of European identity, sense of EU representation and preferences for EU policy scope among European mass publics, which are the main dimensions of EU citizenship. The analysis uses a new comparative dataset on EU attitudes derived from a survey in 16 EU countries plus Serbia in 2007. This study shows that, despite initial expectations, levels of European identity, sense of EU representation, and preferences for EU policy scope among European mass publics did not display a strong trend in any particular direction during the period between 1975 and 2007. However, there are interesting variations in these measures of EU citizenship both across individuals and across countries that are described and explained by reference to a series of relevant hypotheses. The book pays particular attention to the inter-linkages among the three dimensions of citizenship itself. EU identity, representation and scope are all reciprocally related, but the representation dimension is key to the development of a generalised sense of a sense of citizenship at the EU level. This in turn places a significant premium on the need to address popular doubts about the EU's 'democratic deficit'.

About the Author
Paolo Bellucci has published articles and books on political behaviour. He serves in the Board of Societa Italiana di Scienza Politica (SISP), of ITANES (Italian National Election Study), and is chairman of the SISP standing group on Public Opinion and Political Behaviour. Principal co-investigator of the 2006 and 2008 Italian National Election Study. He is Professor of Comparative Political Behaviour and Chair of the Department of Historical, Social and Political Sciences of the University of Siena. David Sanders specialises in the analysis of public opinion and electoral behaviour in the UK and in Europe. He is coauthor of Political Choice in Britain (Cambridge University Press, 2004) and of Performance Politics and the British Voter (Oxford University Press, 2009). He has been a co-Director of the British Election Study since 2000. He is is a Professor of Government at the University of Essex. Gabor Toka specializes in voting behaviour and political attitude formation, especially in a comparative perspective and with respect to the impact of national institutions and political knowledge. He was a founding member of the Comparative Study of Electoral Systems project and served as principal investigator for comparative and national election surveys in five countries. He is co-author of Post-Communist Party Systems: Competition, Representation, and Inter-Party Cooperation (Cambridge University Press, 1999) and author of over five dozen articles in scholarly journals and edited volumes. He is Professor at the Department of Political Science, Central European University, Budapest. Mariano Torcal has published articles on the topics of political disaffection in new democracies, electoral behavior and political participation in major international journals. "Honorable Mention for the Gregory M. Luebbert Prize for best article in Comparative Politics of 1997" by the American Political Science Association. Reviewer and Member of the Editorial Board of many international journals. He is co-author of Disaffected Citizens: Social Capital, Institutions and Politics, London, Routledge 2006 (edited with Jose Ramon Montero) and many others in Spanish. He is Professor in Political Science at the Department of Political and Social Science at the Pompeu Fabra University in Barcelona and National Coordinator of the European Social Survey in Spain.
or
Not Currently Available for Direct Purchase