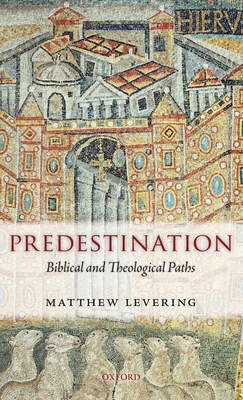 Predestination (Hardcover)
Biblical and Theological Paths
OUP Oxford, 9780199604524, 240pp.
Publication Date: May 26, 2011
* Individual store prices may vary.
Description
Predestination has been the subject of perennial controversy among Christians, although in recent years theologians have shied away from it as a divisive and unedifying topic. In this book Matthew Levering argues that Christian theological reflection needs to continue to return to the topic of predestination, for two reasons:
About the Author
Matthew Levering is Professor of Theology at the University of Dayton. He previously taught for nine years at Ave Maria University, and in 2006-2007 he was the Myser Fellow at the Center for Ethics and Culture at the University of Notre Dame. With Reinhard Huetter, he is co-editor of the theological and philosophical quarterly Nova et Vetera. The author of over twenty books, including ten monographs, he is Chair of the Board of the Academy of Catholic Theology. Since 2004 he has been a member of Evangelicals and Catholics Together. With Hans Boersma, he is co-director of the Center for Catholic-Evangelical Dialogue. He currently co-edits book series for the University of Notre Dame Press, Catholic University of America Press, Sapientia Press, and Brazos Press. His main interest is the intersection of theology, philosophy, and biblical exegesis in the formation and communication of Christian dogmatic, moral, and sacramental theology.