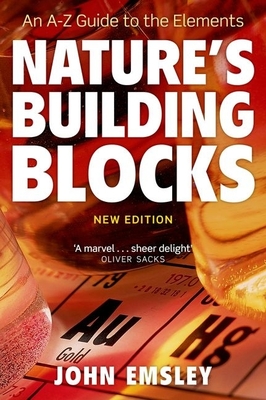 Nature's Building Blocks
Everything You Need to Know about the Elements
Paperback

* Individual store prices may vary.
Other Editions of This Title:
MP3 CD (7/5/2016)
Description
Written by award-winning science writer John Emsley, this informative and highly enjoyable book explains the what, the why and the wherefore of the elements. Arranged alphabetically, from Actinium to Zirconium, it is a complete guide to all the elements that are currently known, with more
extensive coverage of those we encounter in our everyday life. The entry on each element reveals where it came from, what role it may have in the human body, the foods that contain it, how it was discovered, its role in human health, the uses and misuses to which it is put, and its environmental
role. The new edition includes the three chemical elements discovered since the first edition--Darmstadtium, Roetgenium, and Copernicium--and the section on transfermium elements has now been incorporated into the main part of the book. In addition, Emsley has added new information on the economic
uses of elements such as Scandium and Gold. Praised by Nature as amusing and finely crafted, Nature's Building Blocks offers a pleasurable tour of the very essence of our material world.

Oxford University Press, USA, 9780199605637, 720pp.
Publication Date: October 1, 2011
About the Author
John Emsley won the Science Book prize in 1995 for his Consumer's Good Chemical Guide, and followed this with a series of popular science books: Molecules at an Exhibition, Was it Something You Ate? (co-authored with P. Fell), and The Shocking History of Phosphorus, all of which have been translatedinto many other languages. After 20 years as a researcher and lecturer in chemistry at London University, he became a freelance writer, as well as Science Writer in Residence, first at Imperial College London and then at Cambridge University. In 2003 he was awarded the German Chemical Society'sWriter's Award.