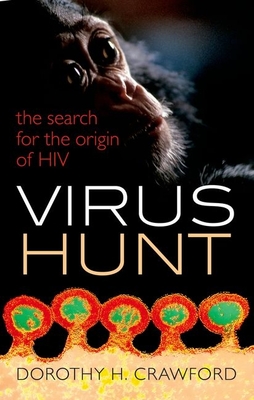 Virus Hunt: The Search for the Origin of HIV (Hardcover)
The Search for the Origin of HIV
Oxford University Press, USA, 9780199641147, 272pp.
Publication Date: August 1, 2013
* Individual store prices may vary.
or
Not Currently Available for Direct Purchase
Description
In Virus Hunt, renowned virologist Dorothy H. Crawford takes us inside one of the great research quests of our time--the search for the origin of AIDS. From hospital intensive care wards to research laboratories to the African rain forests, Crawford follows the trail of the virus back to its roots deep in Africa. We track wild monkeys and apes through the jungle--gathering their DNA via hair and feces samples--to discover from which primates HIV first jumped to our species, ultimately concluding that the most virulent strain, HIV-1, came from chimpanzees in Cameroon. We then time travel back to colonial Africa around the turn of the 20th century, when the virus first spread to humans. But even the rapidly mutating HIV could not survive in one person long enough to adapt to our immune system. Crawford shows that it may have been given the opportunity to adapt by being transmitted rapidly from one person to the next through unsterile syringes, ironically used during a campaign to wipe out disease by mass inoculation. The book then moves to Leopoldville (now Kinshasa), where Crawford describes the unique series of social upheavals, starting in the 1920s, that sparked epidemic levels of sexually transmitted diseases, allowed HIV-1 to begin its exponential growth. And when in the 1960s chance took the virus abroad to Haiti, from where it jumped to the United States, its pandemic spread began. Crawford tells a gripping story of brilliant scientific sleuthing, breakthrough discoveries, tragic errors, stubborn intractable mysteries, generous collaborations, and bitter disputes. And along the way, she conveys, with a light and engaging touch, a wealth of interesting observations about viruses, DNA, disease, immune systems, the very latest research methods, and of course HIV.
About the Author
Dorothy H. Crawford has been Assistant Principal for Public Understanding of Medicine at the University of Edinburgh since 2007. Her previous books include The Invisible Enemy, Deadly Companions, and Viruses: A Very Short Introduction. She was elected a Fellow of both the Royal Society of Edinburgh and the Academy of Medical Sciences in 2001, and awarded an OBE for services to medicine and higher education in 2005.
Advertisement