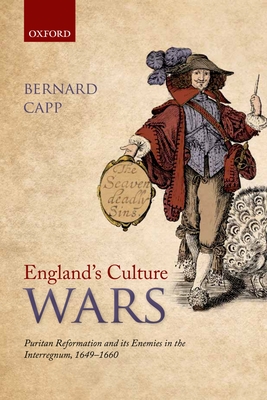 England's Culture Wars (Hardcover)
Puritan Reformation and Its Enemies in the Interregnum, 1649-1660
OUP UK, 9780199641789, 274pp.
Publication Date: September 1, 2012
Other Editions of This Title:
MP3 CD (7/5/2016)
* Individual store prices may vary.
Description
Following the execution of the king in 1649, the new Commonwealth and then Oliver Cromwell set out to drive forward a puritan reformation of manners. They wanted to reform the church and its services, enforce the Sabbath, suppress Christmas, and spread the gospel. They sought to impose a stern moral discipline to regulate and reform sexual behaviour, drinking practices, language, dress, and leisure activities ranging from music and plays to football. England's Culture Wars explores how far this agenda could be enforced, especially in urban communities which offered the greatest potential to build a godly civic commonwealth. How far were local magistrates and ministers willing to cooperate, and what coercive powers did the regime possess to silence or remove dissidents? How far did the reformers themselves wish to go, and how did they reconcile godly reformation with the demands of decency and civility? Music and dancing lived on, in genteel contexts, early opera replaced the plays now forbidden, and puritans themselves were often fond of hunting and hawking. Bernard Capp explores the propaganda wars waged in press and pulpit, how energetically reformation was pursued, and how much or little was achieved. Many recent historians have dismissed interregnum reformation as a failure. He demonstrates that while the reforming drive varied enormously from place to place, its impact could be powerful. The book is therefore structured in three parts: setting out the reform agenda and challenges, surveying general issues and patterns, and finally offering a number of representative case-studies. It draws on a wide range of sources, including local and central government records, judicial records, pamphlets, sermons, newspapers, diaries, letters, and memoirs; and demonstrates how court records by themselves give us only a very limited picture of what was happening on the ground.

About the Author
Educated at Pembroke College Oxford, Bernard Capp has taught at Warwick since 1968 as Lecturer, Senior Lecturer, Reader, and Professor from 1994. He became head of Department in the early-mid 1990s and has been a Fellow of the British Academy since 2005. Capp formally retired in 2010 and is now Emeritus Professor, but still teaches part-time. He has published five books and numerous articles and essays on a wide range of social, cultural, and religious themes in early modern English history. He has also made numerous radio and TV contributions over the years.