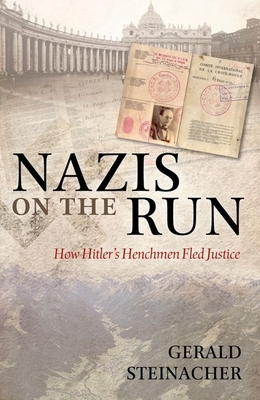 Nazis on the Run (Paperback)
How Hitler's Henchmen Fled Justice
Oxford University Press, USA, 9780199642458, 382pp.
Publication Date: October 25, 2012
Other Editions of This Title:
Hardcover (6/9/2011)
* Individual store prices may vary.
Description
In Nazis on the Run, historian Gerald Steinacher provides the true story of how the Nazis escaped their fate. Drawing on extensive research in newly opened archives, Steinacher not only reveals how Nazi war criminals escaped from justice at the end of the Second World War, fleeing through the Tyrolean Alps to Italian seaports, but he also highlights the key roles played by the Red Cross, the Vatican, and the Secret Services of the major powers. The book takes a hard look at the International Committee of the Red Cross, proving that identification papers issued by the Red Cross made it possible for thousands of Nazis, war criminals, and collaborators--including Adolf Eichmann and Josef Mengale--to slip through the hands of justice and to find refuge in North and South America, Spain, and the Near East. Steinacher underscores the importance of the South Tyrol as a "ratline" from Germany to Italy and also reveals that many leaders of the Catholic Church--sometimes knowingly, other times unwittingly--were involved in large-scale Nazi smuggling, often driven by the fear of an imminent communist takeover of Italy. Finally, the book documents how the Counter Intelligence Corps (the predecessor to the CIA) recruited former SS men to advise U.S. intelligence agencies and smuggled them out of Soviet-occupied areas of Austria and Eastern Europe into Italy and on to South America.

About the Author
Gerald Steinacher is currently a Joseph A. Schumpeter Research Fellow at the Center for European Studies at Harvard University and Lecturer on Contemporary History at the University of Innsbruck, Austria.
or
Not Currently Available for Direct Purchase